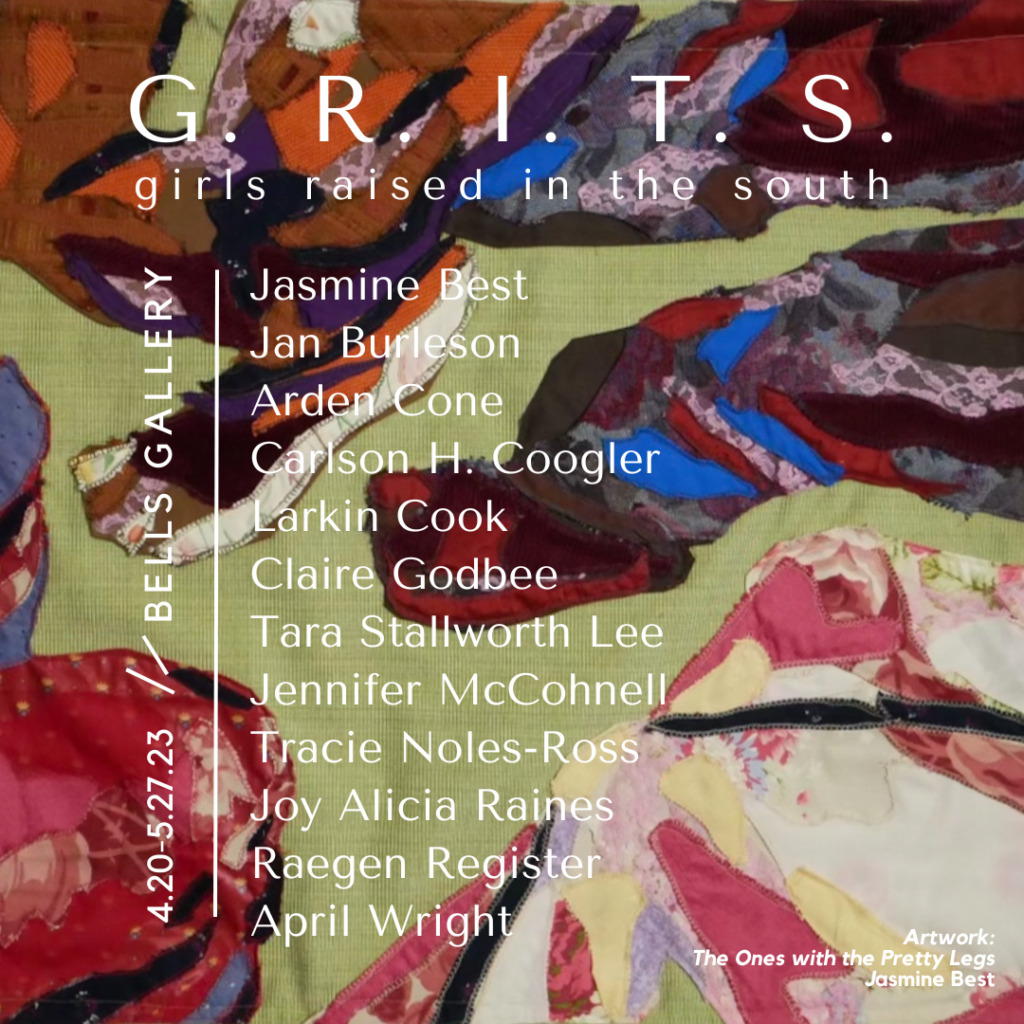 G. R. I. T. S. (Girls Raised in the South) | Feminism in the South
April 20 – May 27, 2023
Exhibition reception on Friday, May 5th; 5p-8p
All art is for sale in person and online.
See the online gallery to purchase on the Bells Gallery website
G. R. I. T. S. is a group exhibition with artists Jasmine Best (NC), Jan Burleson (TN), Arden Cone (SC), Carlson H. Coogler (AL), Larkin Cook (TN), Claire Godbee (AL), Tara Stallworth Lee (AL), Jennifer McCohnell (AL), Tracie Noles-Ross (AL), Joy Alicia Raines (GA), Raegen Register (GA), and April Wright (TN) on view at Bells Gallery in Dothan, Alabama. This show explores feminism in the South.
ARTISTS
Jasmine Best is a true Southern Artist, gathering narratives from her Carolinian family and childhood. The North Carolina-based artist uses her own memories and manipulations of her memories to create dialogues about the black female identity in the South and predominantly white spaces.
She holds a Bachelor of Fine Arts from the University of North Carolina at Greensboro. She works with tangible and traditional mediums combined with digital means of art-making. Her work often depicts maternal figures, each depicting the diversity and qualities that make up the black southern women in her life through several generations. She is currently working on her BFA at the University of Georgia.
Artist Statement
Our memories are a significant part of our identities. They encompass where we come from, who we know, and what we subconsciously find important. We consist of our memories, but they are malleable and can be manipulated like any medium used in art. I reevaluate my personal memories for moments that have either greatly affected how I interact with others, remain strong internal cinematic memory, or greatly impact the intersection of my marginalized identities.
Working from my individual past articulates a better understanding of my background as a Black Carolinian woman and creates a platform where others can find relatable connections from my work in their lives. I take the racial, southern, and domestic upbringing I and past generations of women in my family have had and place it in a new context. I am creating a platform for discussion of black femininity in predominantly white spaces and creating a vehicle where my audience can make connections of representation, or lack thereof, in their own lives and how that affects them.
Medium specificity is the most concise way for me to materialize not only memories but the emotions tied to them. Specific fabrics, prints, animation styles, objects, mark-making, and compositions can all bring a certain time, place, emotion, or person to mind. I shift and combine between digital, tangible, 2D, and 3D mediums to best articulate my memories because I grew up during the transition from analog to digital. Using mixed media recalls a nostalgia for the transitional era of analog into digital and reflects the malleable nature of remembrances.
Jan Burleson holds a 2016 BFA in Painting and Drawing from The University of Tennessee at Chattanooga. She holds a 1975 BSSW from East Tennessee State University and a 1980 MSSW from the University of Tennessee at Knoxville and has been a Licensed Clinical Social Worker for forty years.
She was a 2018-2019 Ann and Steve Bailey Opportunity Grant recipient and a 2015 Chattanooga AVA FRESH Young and Emerging Artist. She received the 2013 Lillian B. Feinstein Scholarship at UTC, along with a 2013 Juried Student Exhibition Curator's Award and a 2012 Award of Excellence. Her work has been shown regionally with Knoxville's Arts and Culture Alliance and Dogwood Arts exhibitions, in Chattanooga's Association for Visual Arts exhibitions and ChaArtSpace, in East Tennessee State University Slocumb Gallery's Positive-Negative national exhibitions, and at The Arts Center in Athens.
Artist Statement
I began my current body of work during the isolation of the pandemic year. The exploratory process begins with collage, using clipped images, gleaned slivers of disrupted culture, and experience piled into two-dimensional stacks. The collages— "pilings"—are then expanded into paintings that contain concealed and direct references to art history, current culture and events, national and world traumas, and touches of personal humor.
Arden Cone, an artist born and raised in South Carolina, unpacks Southern identity through her sculptures, paintings, and writings about art. In 2012 she graduated summa cum laude from Hollins University, and in 2018 she earned an MFA from Boston University's Painting Program. Since then, Arden has been awarded residencies at Chautauqua Institute School of Fine Arts, Vermont Studio Center, and Pike School of Art. She has exhibited her work widely across the US and was named a finalist for the 2017 Arthur & Dorothy Yeck Award at Miami University.
Artist Statement
My art focuses on the South's identity and the enigmatic people—myself included—who have built its culture. Many Southerners, taught to rest their laurels on the finer points of grace and class, fail to see these so-called virtues as vestiges of the region's Antebellum social order, but as an artist, I lean into these uncomfortable truths. Through my work, I contextualize questions of privilege, access, and nostalgia within the broader history of the South.
This land—that of the red state paradox and the Confederate-flag-waving, self-proclaimed, quote-unquote, "American patriot"—is as incongruous as it is ironic. The people here are known to dazzle visitors with Southern hospitality but make yourself at home, and you'll find out a truth: there is no Southern archetype, no stereotype, nor is there a caricature that will suffice to sum us up.
Through my art, I open the door to careful contemplation, encouraging viewers to hold in suspension the pain and laughter of the South's identity complex.
Carlson Coogler is an artist, researcher, teacher, and doctoral student who—by using fiber arts, jewelry-making, poetry, and other art forms—plays within and across ways of thinking, making, and becoming. Although her work spans disciplines, contexts, and genres, it retains a core logic and purpose: by intertwining form and content, material and idea, Carlson makes-with the world she has experienced… and the one she hopes for. Driven by joy and curiosity, she attends to a wide variety of questions and phenomena—what can(not) be said or thought; the interconnections between organic chemistry and writing; the paradoxes operating in how we do inquiry (that is, research, that is, art, that is, life); and, and. She invites a future burgeoning with depth, with stories, and most of all, with possibilities.
Larkin Cook is an artist based in Chattanooga, TN working in painting, sculpture, and performance. She makes narrative, figurative work about the intersection between gender and space, relationships, and sexuality with materials ranging from oil paint to human hair. In 2021, she received her BFA in painting and drawing from the University of Tennessee at Chattanooga. Currently, she is a contributor with Mineral House Media, an online curatorial collective and residency focused on sharing work from artists in the Southeast.
Artist Statement
Femininity and the rules surrounding it pull me close, sometimes to the point of discomfort. I am interested in how these unspoken but learned rules impact relationships, sexuality, and girlhood. I explore this through narrative, figure paintings, as well as sculptures and performances. The series I Live Here Still reflects on the internal struggles of girlhood as an adult. In this work, feelings of grief, confusion, abandonment, self-discovery, and embarrassment are compartmentalized into domestic spaces. I am inspired by the saturated color palettes, hyper-feminine tchotchkes, and technology of the early aughts as well as the Southern landscapes that shaped my childhood. I combine painting with collage/sculpture to give tactility to emotions and memories that do not feel concrete.
Claire Godbee is an artist living and working in Birmingham, Alabama. She creates primarily with oil paint while also utilizing acrylic paint, various drawing mediums, and printmaking. She graduated from the University of Alabama at Birmingham in the spring of 2016 with a Bachelor of Fine Arts degree. She has exhibited at Abroms-Engel Institute for Visual Arts and Birmingham Public Library Gallery in Birmingham, AL, Lowe Mill Arts & Entertainment Gallery in Huntsville, AL, Stay Home Gallery in Paris, TN, and WomanMade Gallery in Chicago, IL.
Artist Statement
My work explores and celebrates the female form and experience. By embracing feminism, inner liberation, and self-discovery, my work embodies narratives about identity, friendship, and purpose, revealing the magic that exists within us and throughout everyday life. I replace typical skin tones with unexpected colors prompting viewers to approach the work with a sense of curiosity and without prejudice, as if observing a landscape. My use of color provides a playful aspect and is an opportunity for me to reminisce on childhood and the emanating and admirable growth from it. Through my work, I am constantly exploring my own insecurities. I aim to transgress body norms and accentuate the female form's true essence, acknowledging the beauty of existing and aging.
Tara Stallworth Lee works across mediums with a concentration in analog photography, papermaking, and collage. In collaboration with her partner, Lou, she designs and builds frames using ethically sourced wood from the Birmingham area and south Alabama. Her latest works incorporate discarded textiles and hand stitching. The expansion of human dignity and the significance of the natural world are important themes throughout her work.
In 1992, Tara received her BS in Psychology and Minor in Art from Birmingham-Southern College. For twenty years, she traveled to Washington, D.C., to teach specialty art classes to youth for The Smithsonian Associates summer camp program. Tara is an instructor with the Alabama Prison Arts and Education Program and is an artist-collaborator at Studio By The Tracks, a studio, and gallery for adult artists with autism. She is the 2021/22 recipient of the Alabama State Council on the Arts Gay Burke Fellowship in Photographic Arts. Lee lives and works in Birmingham, Alabama, where she is an art educator and studio resident at Ground Floor Contemporary.
Jennifer McCohnell is a self-taught artist based in Dothan, Alabama. She grew up in a world defined by what has been traditionally called "woman's work." The aesthetics of Black southern culture, including food, quilting, mending, old cookbooks, and antique dishware, are central to her life and inform her art.
Her work has been included in solo and group exhibitions at the Bells Gallery, Wiregrass Museum of Art, and Georgine Clarke Alabama Artists Gallery.
Artist Statement
My sculptural processes are generally spurred by a sudden idea or flash of inspiration. I make quick sketches followed by a series of more detailed drawings as an idea takes form. Then I begin the slow process of making. Whether in clay or fiber, or mixed media, the act of making a sculpture for me is steeped in technique, exploration, and intuition. The work invariably deviates somewhat from the original concept, and I try to be attuned to those subtle shifts and let the process flow freely. Usually, this results in a piece of work that is faithful to the initial vision but also richer and more layered than I could have ever imagined.
Tracie Noles-Ross is a multidisciplinary storyteller living and working in Birmingham, Alabama. She received her B.A. from the University of Alabama in Birmingham with a concentration in Visual Arts and Creative Writing. She is a member of the Alabama Women's Caucus for Art and Ground Floor Contemporary and PaperWorkers Local artist collectives in Birmingham. Noles-Ross is a recipient of the 2022-2023 Alabama Individual Artist Fellowship from the Alabama State Council on the Arts.
In her work, discarded and forgotten objects are reconfigured, braiding themes of memory, place, identity, and environmental issues, encouraging a shift in perspective. The process disguises the object's original form and purpose and brings forward new narratives. Strongly committed to understanding the place she is from, Noles-Ross explores aspects of the biologically diverse Alabama landscape, and concepts of family and southern culture, deconstructing them for the purpose of improvement and growth while concurrently protecting, preserving, and celebrating this place she calls home.
Joy Alicia Raines is an artist and writer based in Atlanta, Georgia. She received a BFA in Illustration at Parsons School of Design in 2019. Her work has been published by Stoneboat Literary, The Offing, 7×7, and Popshot Quarterly, among others as well as exhibited at Yui Gallery, SMUSH Gallery, and the Antiques and Gardens Show. She is currently working on her debut novel in addition to a collection of illustrated poems.
Joy draws colorful depictions of quiet emotions. Her work is empathetic, introspective, and often has themes of coming-of-age, relationships, the idea of "home," and faith. She is dedicated to illustrating moments that defy immediate grasp — of all the soft, unspoken things in life: the shifting weather, the faith and fury adherent in sports, the release of the woods, the power of female friendships, and so much more. 
Raegen Register is a multidisciplinary artist based in Valdosta, Georgia. She earned her BA at Valdosta State University. At VSU, she explored a range of media but focused on graphic design and printmaking. The ideas of her work focus on exploring identity and discussing topics such as gender, religion, sexuality, and interpersonal relationships. She is currently working as a graphic designer and with the Boys and Girls Club as an art teacher.
April Wright is a visual artist from Germantown, Tennessee. She uses humble, everyday materials to connect personal narratives about home and ideals of domesticity. She received her B.A. in Sculpture and Ceramics from Union University and her M.F.A. in Art Studio at the University of Kentucky, focusing on ceramics and fibers in 2020. She works interdisciplinary in sculpture and installation art.
Her work has been exhibited nationally and internationally in museums and galleries, such as the Wiregrass Museum of Art in Dothan, Alabama, and Patricia Sweetow Gallery in San Francisco, CA. Woman Made Gallery Chicago, Illinois, The Mint Museum in Charlotte, South Carolina; Bemis Center for Contemporary Arts in Omaha, Nebraska, and Boom 48hr Student Neukolln Artist Festival, Berlin, Germany. She was an artist resident at the 701 Center for Contemporary Art in Columbia, South Carolina, in 2020 and Mendocino Art Center in Mendocino, California, from the fall of 2020-2021. Currently, she resides in Frostburg, Maryland, where she teaches foundations in art as a Lecturer at Frostburg State University.