Now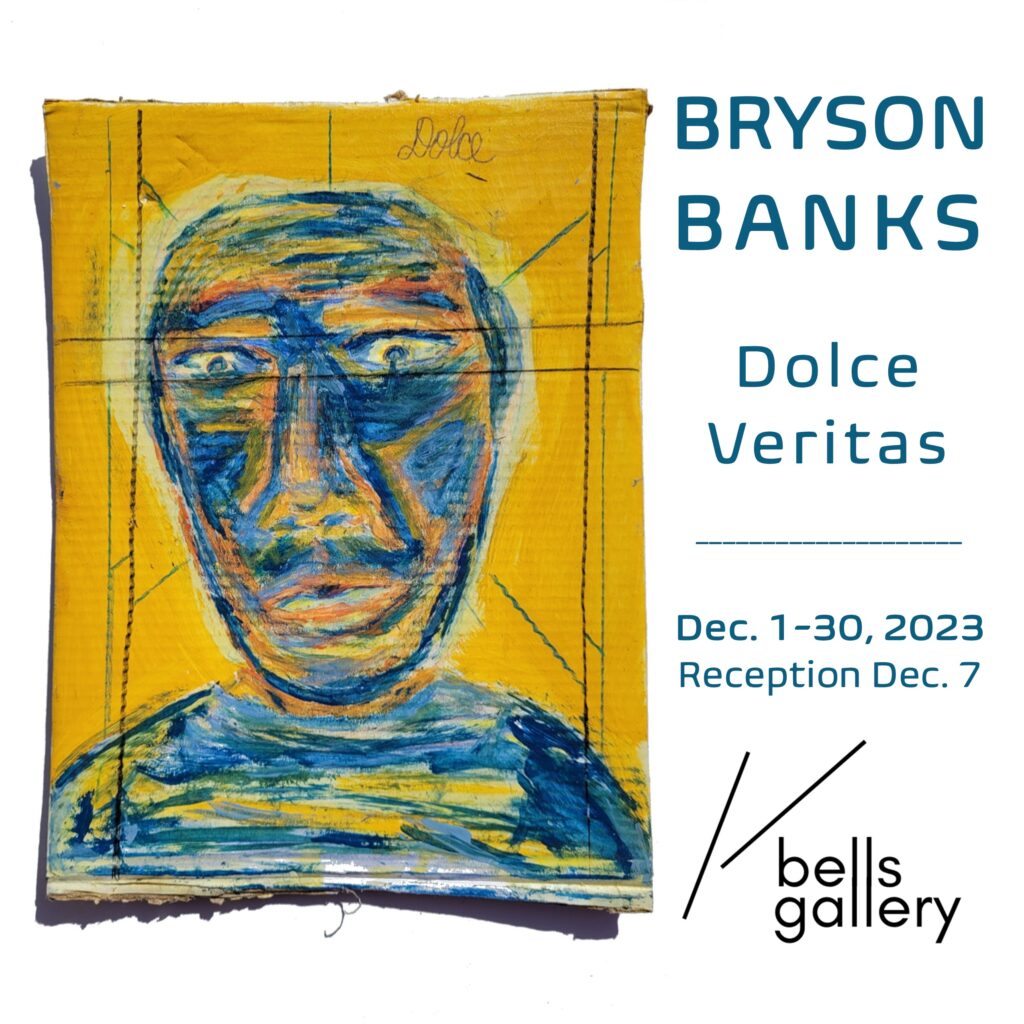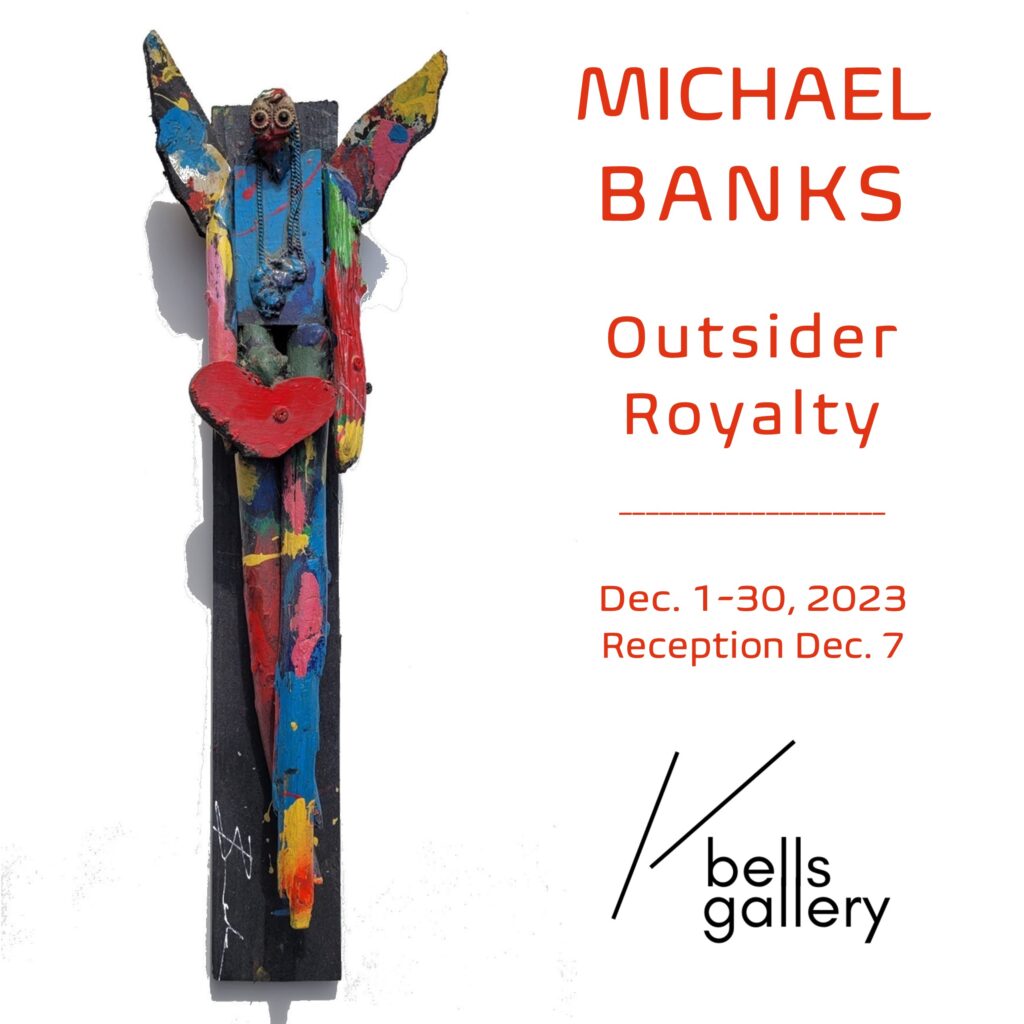 Bryson Banks / Dolce Veritas
Bryson Banks / Dolce Veritas is a recent body of work by emerging artist Bryson Banks, on view at the Bells Gallery in December.
Bryson Truth Banks was born in Guntersville, Alabama, in 2002. He began making art at the age of 15 and moved to Anniston at the age of 17. At 18, he became determined to be a full-time artist like his father, Michael Banks. The artist works in various media and describes himself as "A Quantum Artist of the 21st Century Renaissance."
His subjects draw inspiration from his daily life and a deep love of science. Images from the James Webb Space Telescope influence his bold color choices, and many of his works reference articles about quantum physics he has read. His figures often begin as abstract concepts related to whatever he happens to be reading or thinking about at the time and evolve into depictions of mythological characters, archetypes, or family members. Bryson is excited to have his first solo exhibition in his home state of Alabama.
Upcoming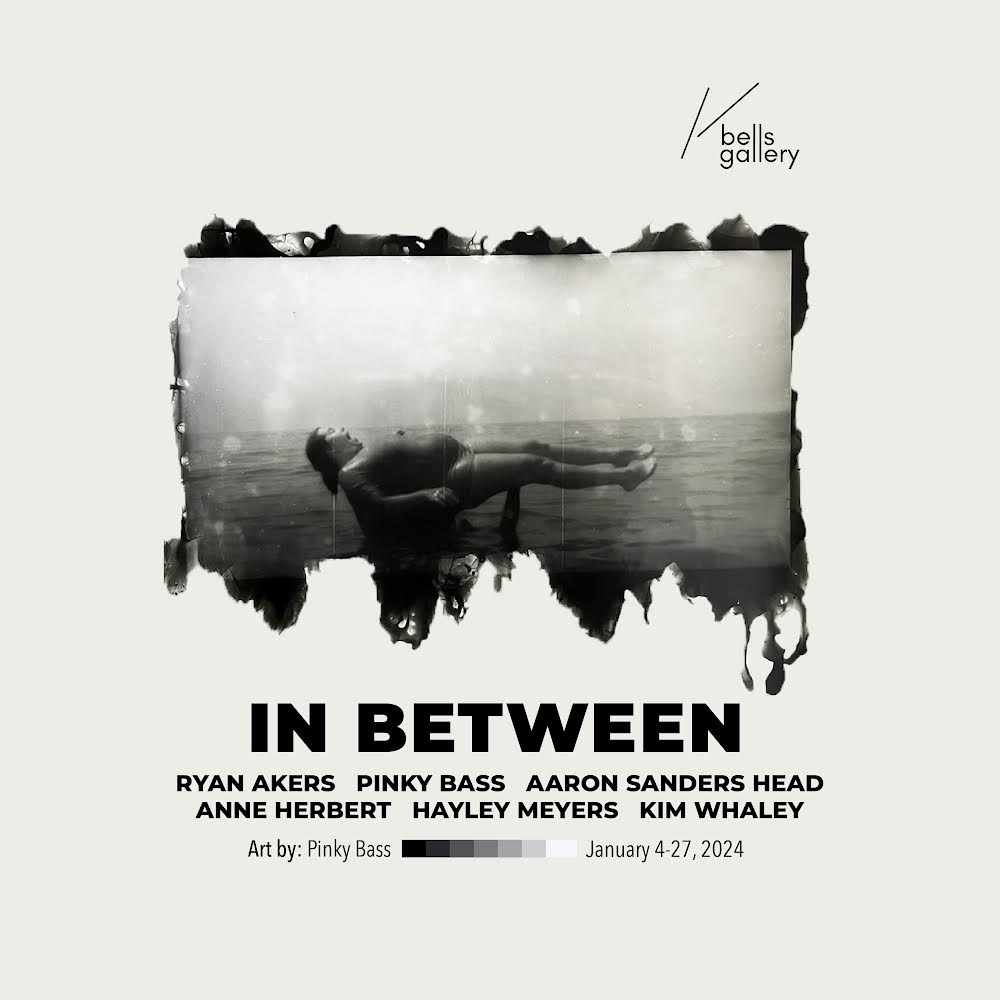 January 4-27, 2024
In Between is a group exhibition of monochromatic black-and-white artworks by artists Ryan Akers, Pinky Bass, Aaron Sanders Head, Anne Herbert, Hayley Meyers, and Kim Whaley on view at Bells Gallery on January 4-27, 2024. From fiber to photography and works on paper to canvas, In Between asks the viewer to enjoy the richness and simplicity of black and white while discovering the depth and diversity within its confines.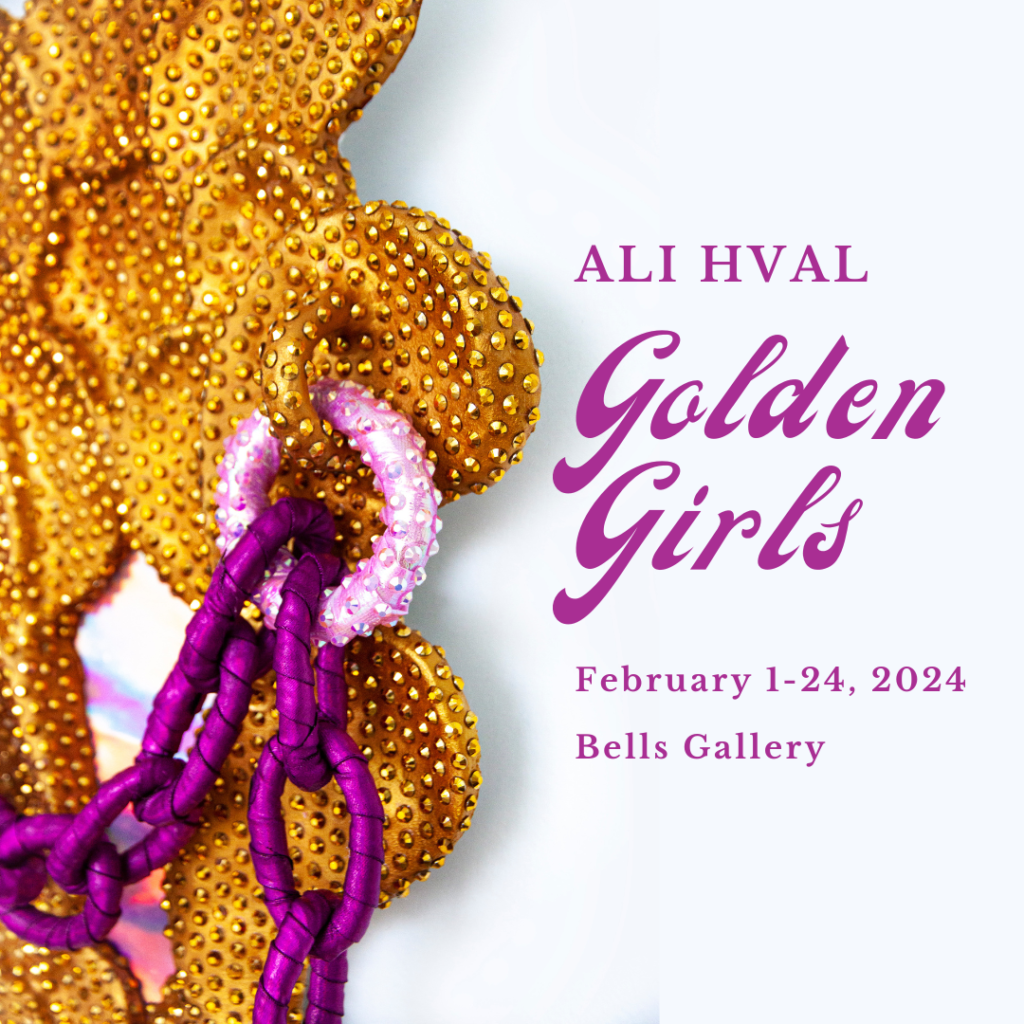 February 1-24, 2024
Golden Girls is a collection of works by artist Ali Hval on view at Bells Gallery from February 1-24, 2024.
Growing up in the southern US, I quickly learned there was a certain expectation of how to "properly" be a woman: now, I challenge what that looks like, using performed femininity as a tool to reveal not only gender disparities but also to illuminate the relentless critique and politicization of the female body. Instead of hiding or denying femme aesthetics and female sexuality, my pieces embrace, highlight, and empower them, while acknowledging all the awkwardness, humor, and theatricality they entail.
My work is a balancing act between sensual forms and playful materials. By augmenting erotic, sensual armatures with glistening rhinestones, feathery pom-poms, and candy-colored fabrics, I assign new meanings and connotations to the forms. Using primarily ceramics and fabric, I create sculptures that evoke pieces of oversized jewelry, shoes, and other fashion and domestic items. I begin a piece by sculpting a high-fired ceramic component, painting it, and carefully studying the surface one by one with tiny rhinestones. From here, I will add textile elements as well as beauty supplies materials like hair scrunchies and nail polish.
The resulting pieces are flirtatious, attention-seeking, and deceptively superficial. Toying with their own actualities and potential, they can speak—glittery and powerful—to politics in their own voice: excessive, unabashedly hyper-feminine, and most importantly, pink.
Ali Hval (she/her) (b. 1993, Sacramento, CA) is an artist currently living and working in Iowa City, Iowa. Currently, Ali is a Lecturer in Painting and Drawing at the University of Iowa. She earned her MFA from the University of Iowa in Painting and Drawing with honors and her BFA in Painting from the University of Alabama with honors. Her work is interdisciplinary, combining ceramic, fabric, installation, and painting. The forms and materials she uses reflect her interest in adornment and the relentless critique and politicization of the body.
Previous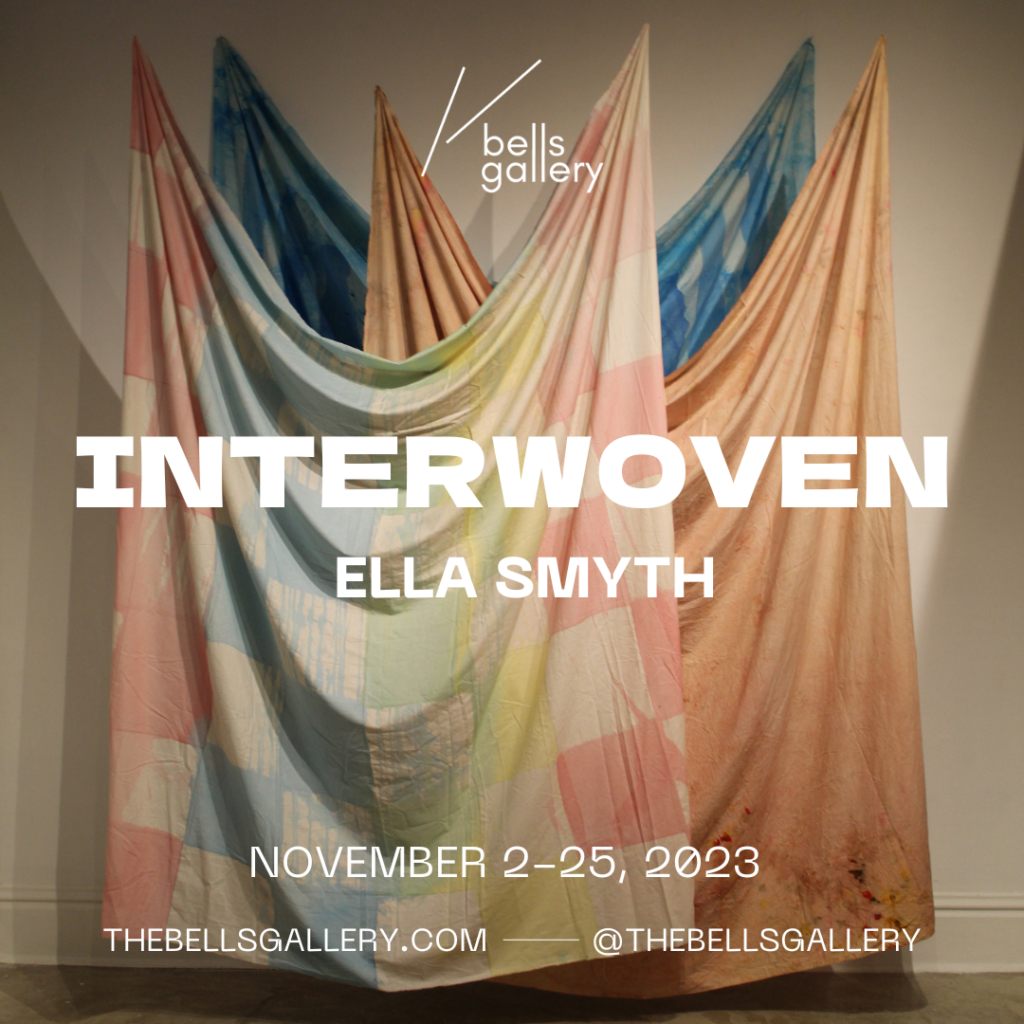 November 2-25, 2023
Interwoven is an exploration of the interplay between dualities in contemporary painting, specifically the organic and the geometric. The artist uses materials to create a visual dialogue that bridges the gap between the natural and machine-made.
The body of work invites the viewer to engage in a conversation about the dualities that exist within us and the world and to consider the possibilities that arise when seemingly opposing forces come together in unexpected ways. Through the interplay of forms, materials, and techniques, the artist seeks to create a visual narrative that reflects the complexities and paradoxes of our world.
Ella Smyth's Interwoven will be on view at Bells Gallery from November 2 to 25, 2023. Interwoven is her thesis, and an extension or evolution of the body of work will be on view. The artist graduated from the University of Alabama in May 2023 and is a resident of Prattville, Alabama.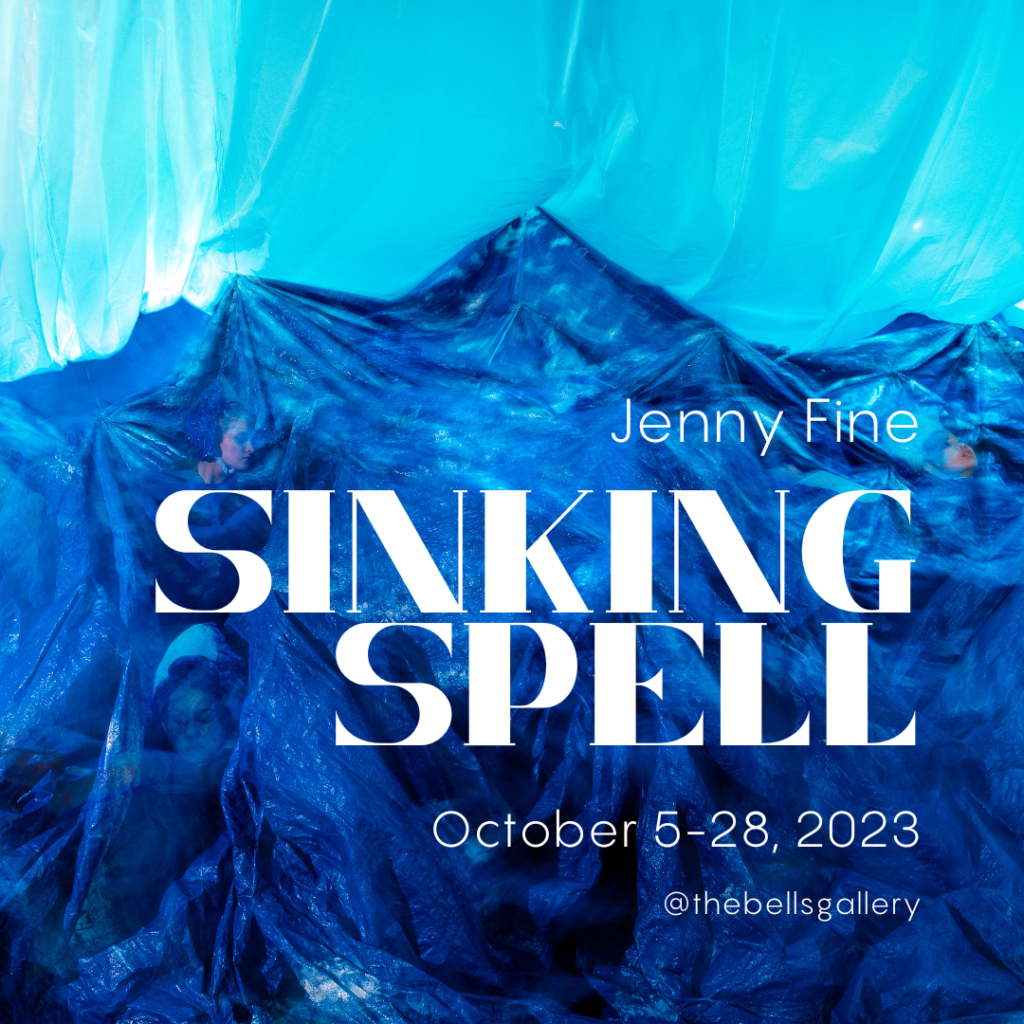 October 5-28, 2023
Jenny Fine's Sinking Spell is a series of photographic sculptures and collages from documentation of the ongoing immersive installation/performance Sync/Swim (formerly Synchronized Swimmers.) The central question these works and souvenirs ask the viewer is, "Do you want to take me home?"
In 2020, Fine brought Synchronized Swimmers to life. The immersive installation is based on research and imagery from the Florida Gulf Coast and the artist's relationship to water – specifically, the childhood memories of her time spent in her grandmother's in-ground pool. That pool filled her childhood with play, often transporting her and her sisters to places only their imaginations could take them. Later, the show evolved to Sync/Swim, with the imagery still leaning heavily on family narratives, geographical research, and regional cultural history.
Sinking Spell is an opportunity to confront the immersive nature of this former body of work. By removing herself from its performance and conceptual rigidness, the artist uses this exhibition as an exercise to think formally about the compositions, pushing the photographic form forward.
Sinking Spell is on view October 5-28, 2023, at the Bells Gallery. It includes photography, photographic sculpture collage, and mixed media sculptures once used as props and performance pieces.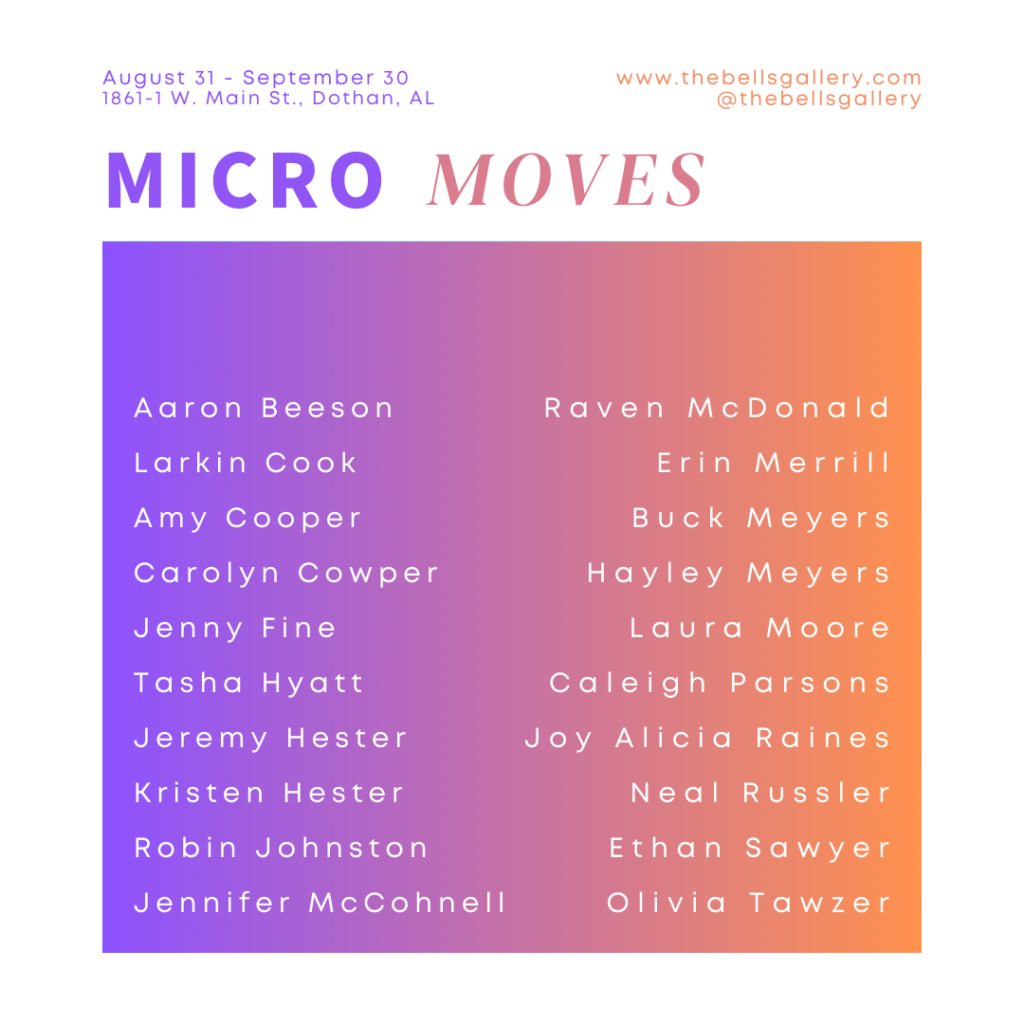 August 31 – September 30, 2023
The Micro Moves Exhibition celebrates ONE year of monthly art exhibitions and community cultivation at Bells. The show will feature small works priced under $100 by first-year exhibiting artists and special people who have been on the journey with owner and curator Holly Roberts Meyers since day one. Bells Gallery is making micro-moves in the right direction.
What is a micro move? Micro-moves are small and often barely noticeable patterns of action and interaction that engage people meaningfully and respectfully for change. They are consequential in generating collective enthusiasm and energy that build palpable hope and momentum.
The Micro Moves exhibiting artists are Aaron Beeson (AL), Larkin Cook (TN), Amy Cooper (AL), Carolyn Cowper (AL), Jenny Fine (AL), Tasha Hyatt (AL), Jeremy Hester (FL), Kristen Hester (FL), Robin Johnston (AL), Jennifer McCohnell (AL), Raven McDonald (AL), Erin Merrill (AL), Buck Meyers (AL), Hayley Meyers (AL), Laura Moore (AL), Caleigh Parsons (AL), Joy Alicia Raines (GA), Neal Russler (TN), Ethan Sawyer (AL), Olivia Tawzer (TN).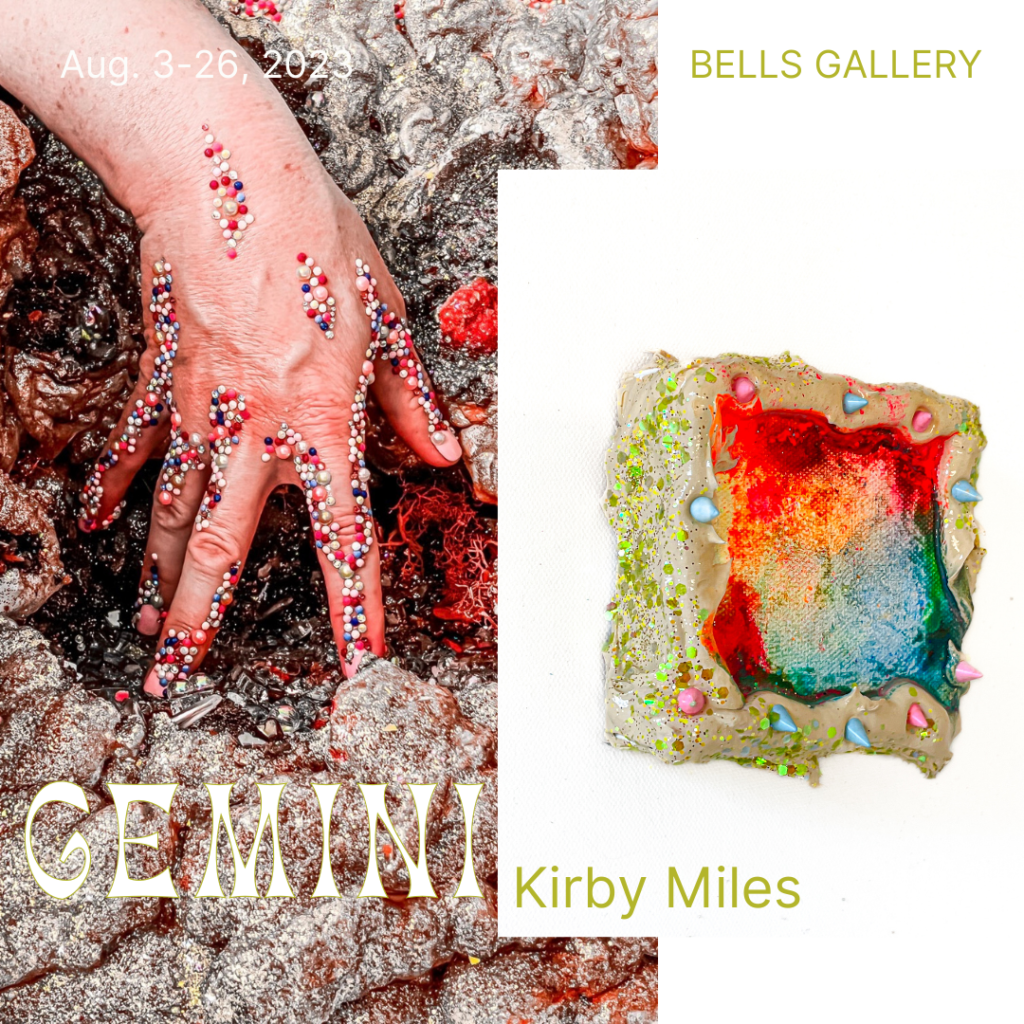 August 3-26, 2023
Gemini, a solo exhibition by artist Kirby Miles, is on view at Bells Gallery on August 3-26, 2023. This body of work is a quick and raucous exploration excavated out of sculpture and mixed media.
Gemini thorough Kirby
Domestic | Cave
Feminine | Other
Tender | Feral
Power | Unnatural
Proof | Earthly Bonds
Woman | Woman
"There is a presence of saccharine glitter and seductive sleekness that add no nutritional value-it's purely pleasure. Colors are natural to the environment from which they came-a sunbleached shimmering biome of undulating fluorescence. At times color represents skin, and at times, it represents the terrain in which the skin traverses.
Kirby has created a realness that permeates each surface, carrying with it historical notions of how the feminine has endured. She says, "Myths of women intertwined-blood drinkers, harlots, and witches. All of this is a reclamation. A point so sharp that it cannot hide."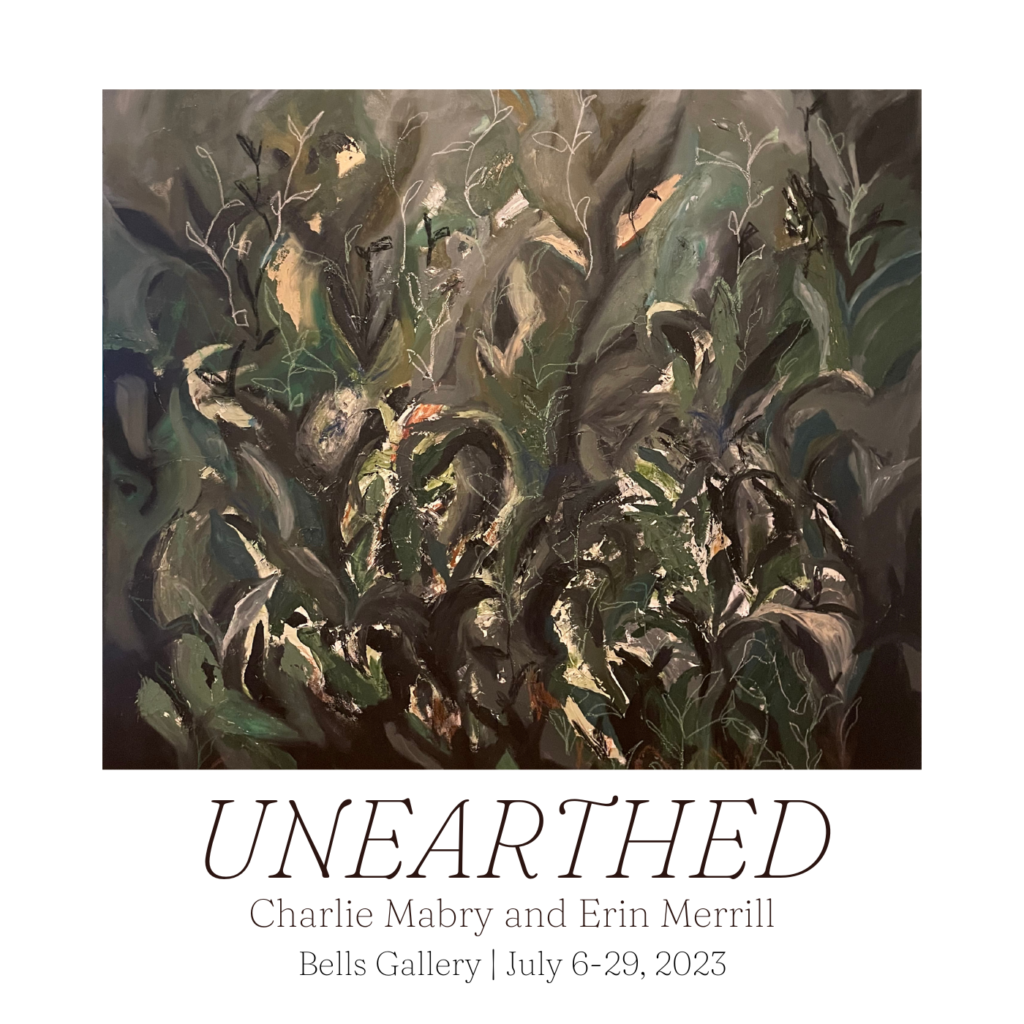 July 6-29, 2023
Unearthed is a collaborative exhibition by sibling artists Charlie Mabry and Erin Merrill on view at the Bells Gallery from July 6-29. Sculptor Charlie Mabry and painter Erin Merrill will employ their contrasting media to connect viewers with this body of work.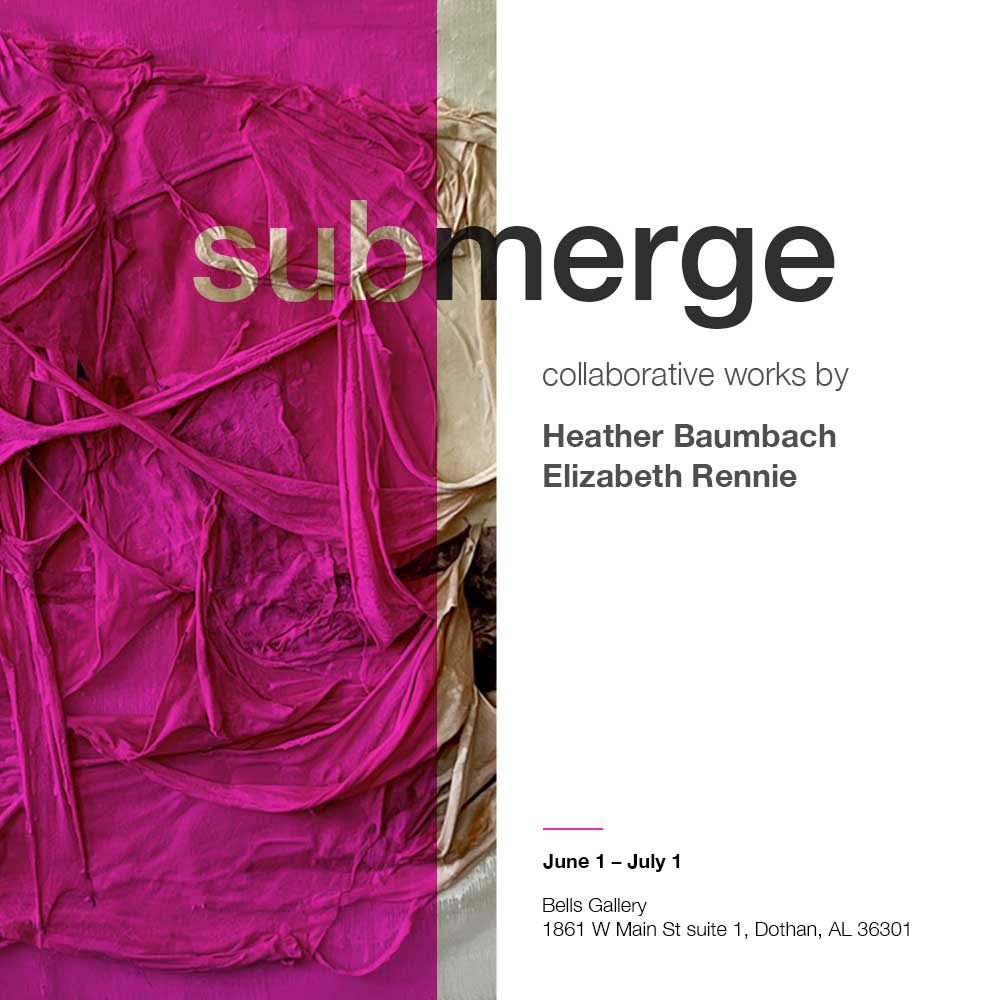 June 1 – July 1, 2023
Submerge will be on view at Bells Gallery in June 2023. The exhibition is a collaboration by artists Heather Baumbach and Elizabeth Rennie. The two join their practices to construct works encircling their common interests and the human experience, surveying the every day, otherness and exposure.
Submerge examines perceptions and realities of external vulnerability while addressing the unseen commonalities of internal struggle. Through their combined use of shape, color, and texture, Elizabeth and Heather's work seek to uncover the relationships between life, bodies, and self-preservation.
Viewers will find mixed media works and a site-specific installation. The artists work with discarded materials and traditional fiber techniques common to our lived experiences concerning identity, mental health, and bodily autonomy.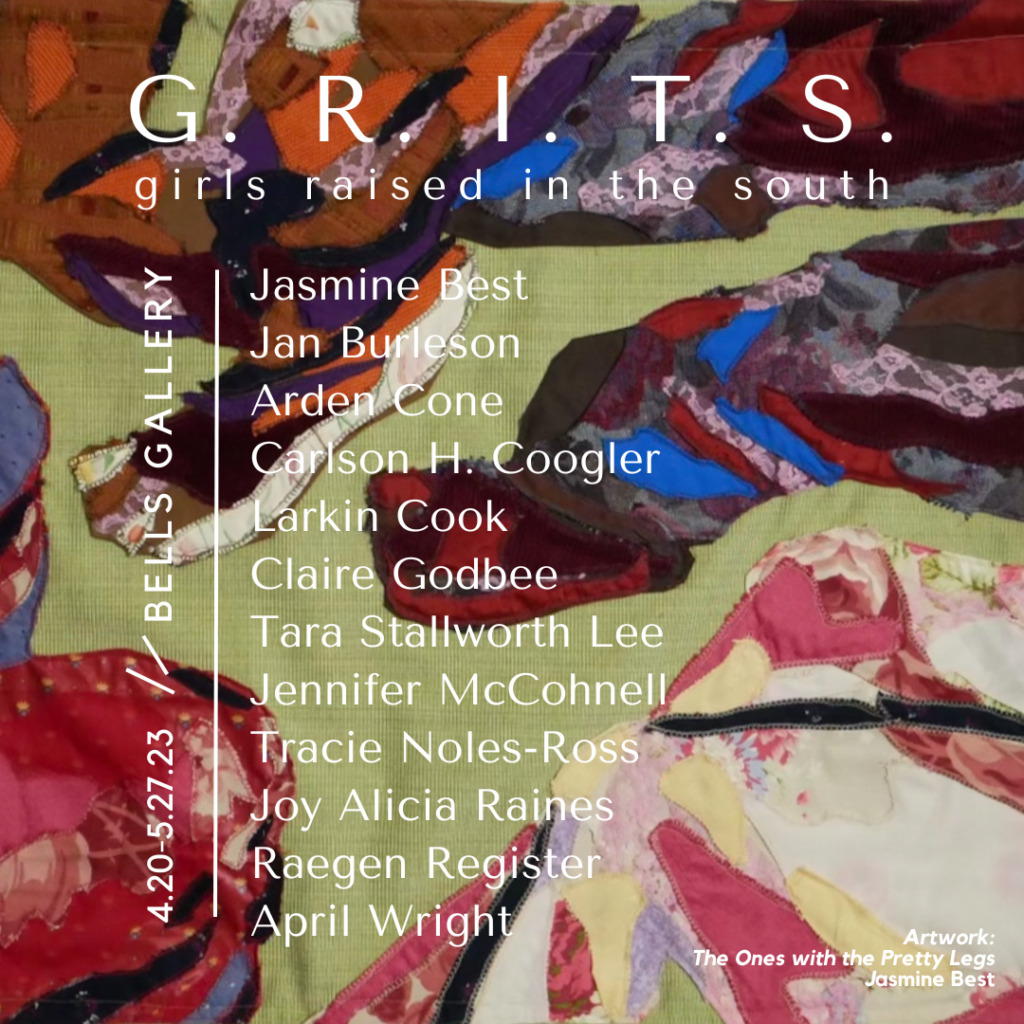 April 20 – May 27, 2023
G. R. I. T. S. is a group exhibition with artists Jasmine Best (NC), Jan Burleson (TN), Arden Cone (SC), Carlson H. Coogler (AL), Larkin Cook (TN), Claire Godbee (AL), Tara Stallworth Lee (AL), Jennifer McCohnell (AL), Tracie Noles-Ross (AL), Joy Alicia Raines (GA), Raegen Register (GA), and April Wright (TN) on view at Bells Gallery in Dothan, Alabama. This show explores feminism in the south.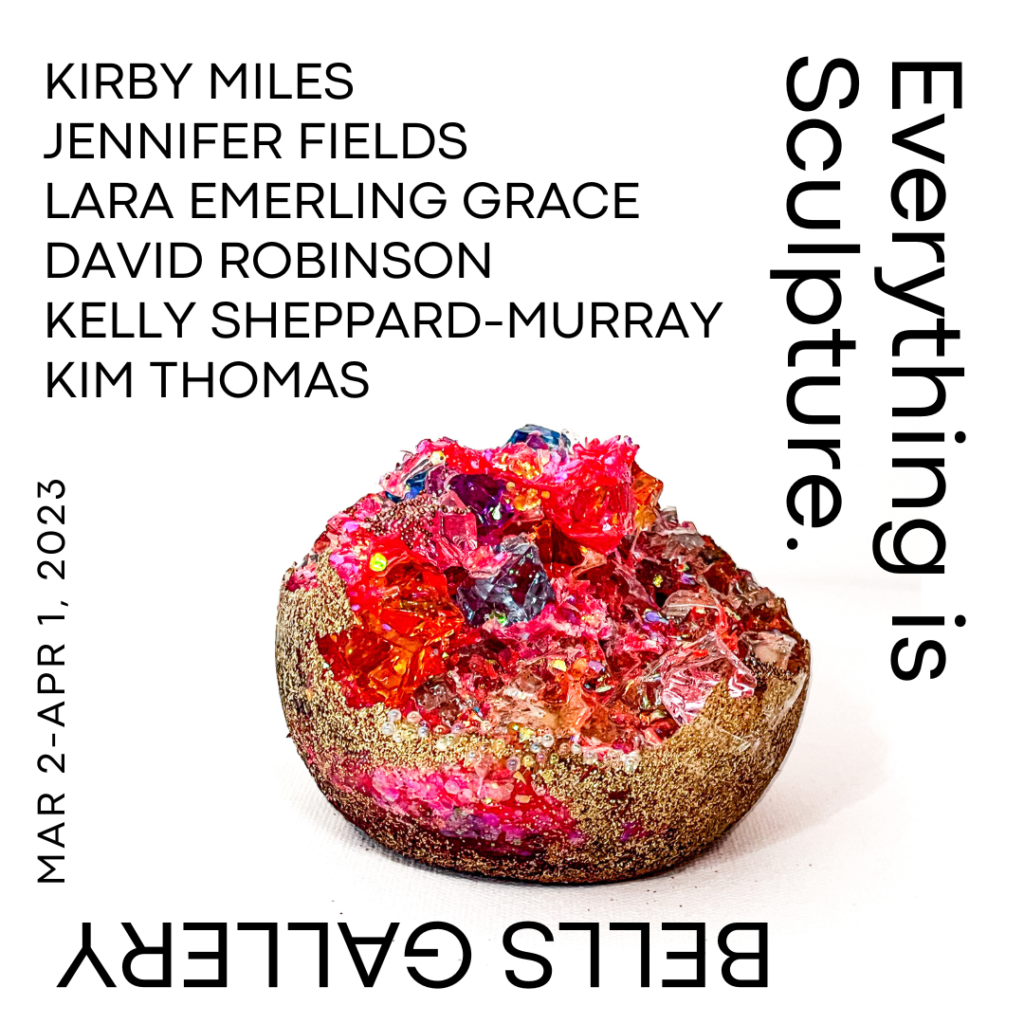 March 2 – April 1, 2023
Everything is Sculpture is a group exhibition inspired by the artist and landscape architect Isamu Noguchi's belief that "everything is sculpture." He once said, "Any material, any idea without hindrance born into space, I consider sculpture."
The group exhibition includes artists Kirby Miles (Chattanooga, TN), Jennifer Fields (Springville, AL), Lara Emerling Grace (Baltimore, MD), David Robinson (Atlanta, GA), Kelly Sheppard Murray (Raleigh, NC), and Kim Thomas (Charleston, SC) will be on view at Bells Gallery in Dothan, Alabama during the month of March.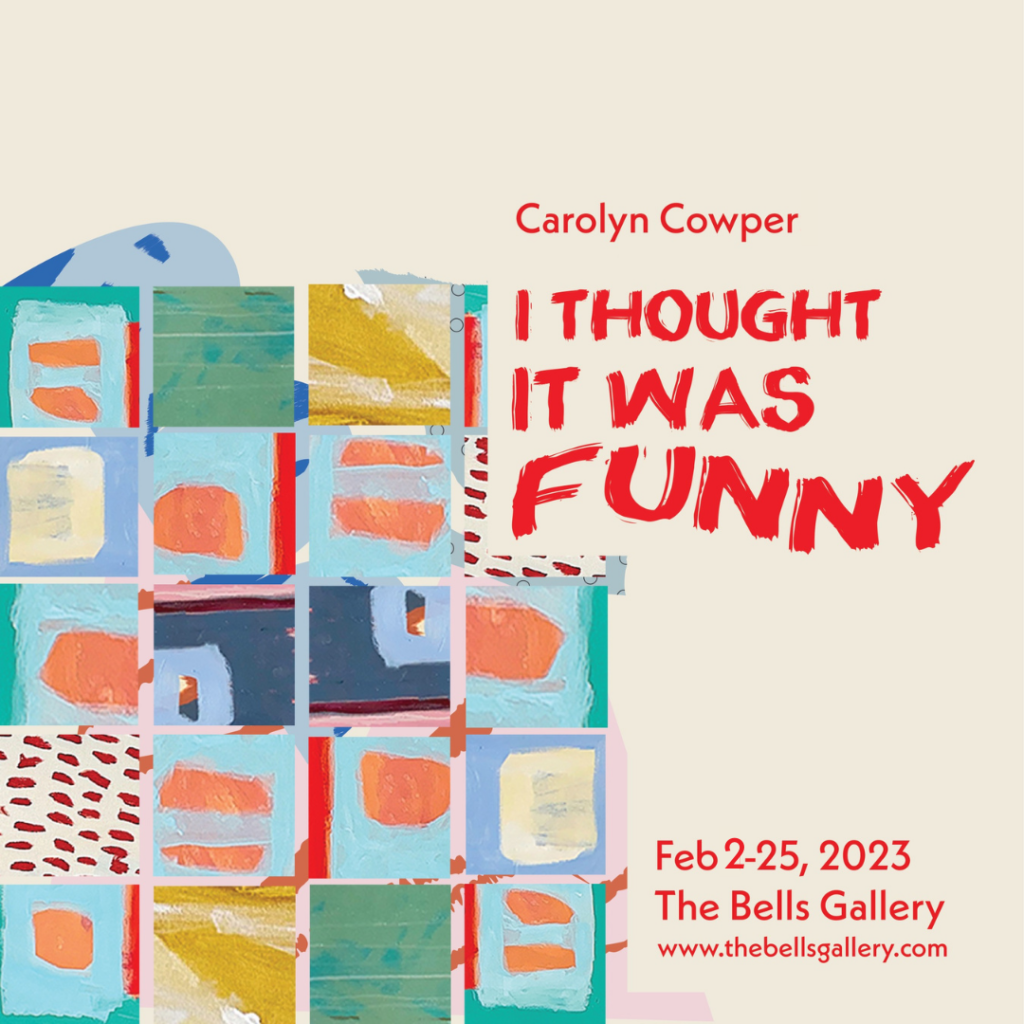 February 2-25, 2023
I Thought It Was Funny by painter Carolyn Cowper is on view at Bells Gallery from February 2 – 25, 2023. Using a tumultuous color palette, bold marks, and exaggerated layers, Cowpers conveys a story about emotion. She mobilizes the body of work of primarily mixed media works on canvas as a spectacle to parade her process of creating – literally and metaphorically.
Cowper observes that humans relate to each other while imbuing their thoughts, beliefs, and culture with their emotional perspectives. She believes that as we progress through life, our emotions alter in the process rather than fade. Perhaps over time, we learn to harness our raw emotions steering them to operate in terms of rationality.

I Thought It Was Funny illustrates the confrontation between rationale and emotion by exploring the balance between being a child and an adult. During the transition from childhood to adulthood, we may often realize things are not as they seem, leaving us with an eerie sense of disillusionment. Cowper explores identity, locality, and gender, using her paintbrush to tackle these distinct narratives in a way that viewers may find exhilarating, humorous, nostalgic, and exhausting.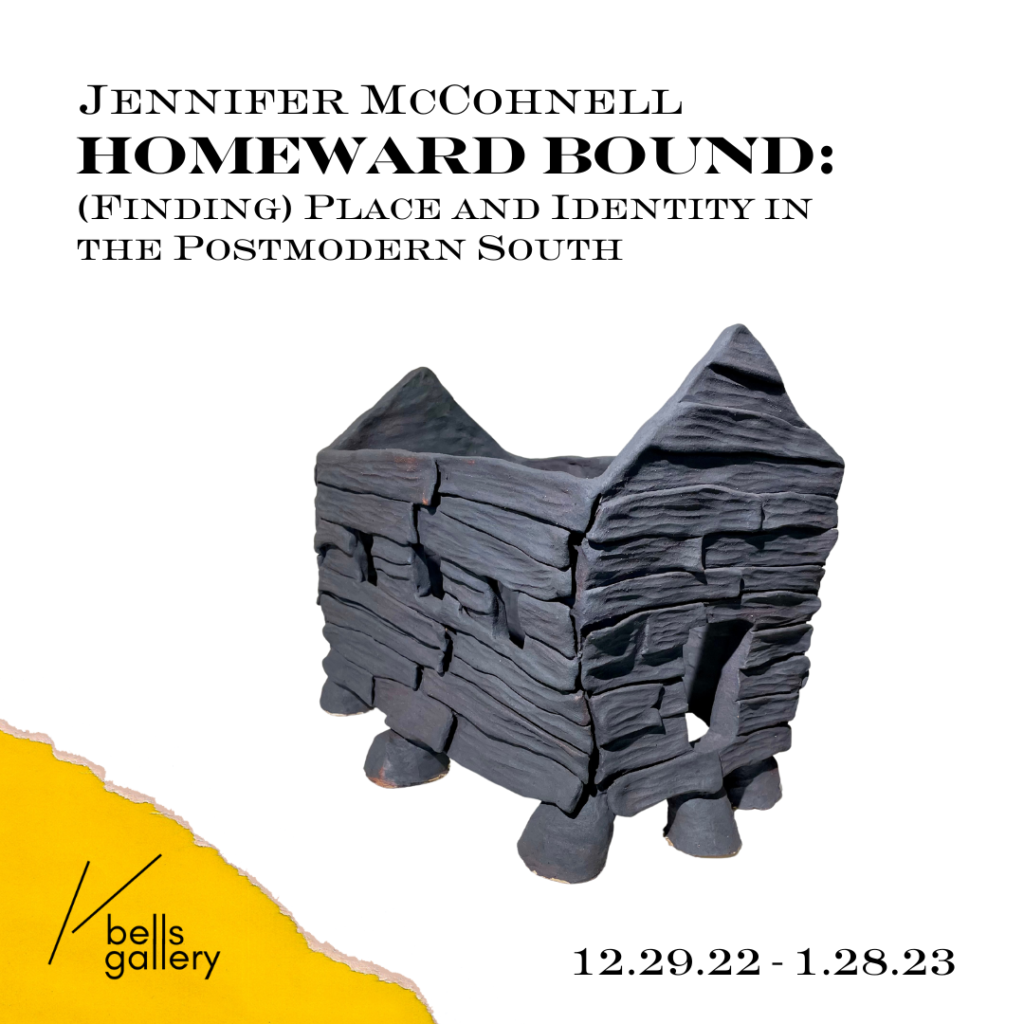 December 29, 2022 – January 28, 2023
Homeward Bound: (Finding) Place and Identity in the Postmodern South is an exploration of home. Using print, sculpture, and painting, artist Jennifer McCohnell utilizes multi-media practices to search for context and meaning. Is home a place or a feeling? Is it fixed or transient? How do our childhood memories and ancestral history impact our sense of home? While these questions are not unique or unfamiliar, they are critical enough for us to consider them again and again.
McCohnell finds herself bound to the physical and spiritual crux of home – melding past and present connections through her environment and emotion to define it. In this exhibition, McCohnell revisits the places, people, and memories of her childhood as those experiences bind her to a territory in space and time that feels like home.
Homeward Bound rests at the intersection of place, memory, and identity encompassing the artist's past, present, and future.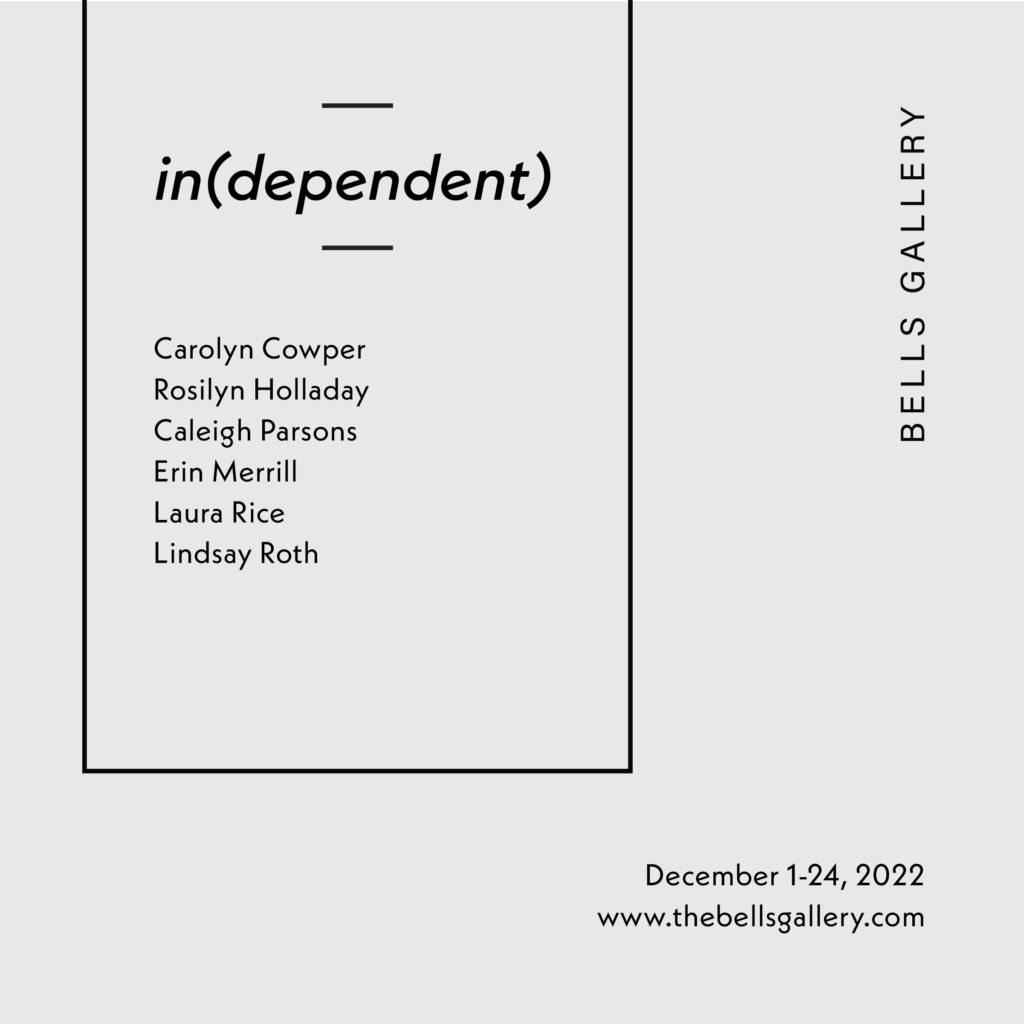 December 1-24, 2022
In(dependent) is a collection of artworks by The Untrained Edit resident artists – Carolyn Cowper, Rosilyn Holladay, Erin Merrill, Caleigh Parsons, Laura Rice, and Lindsay Roth.
This exhibition urges the viewer to question what is communal. There is a common thread between us all. To recognize our commonality and open ourselves to this connectedness is a choice. And, while we may consider ourselves individuals, is it truly possible to be autonomous or self-sufficient?
Others help shape us as individuals. Someone brings the beautiful parts of ourselves to the surface, while another motivates us to work harder, drawing out the grit beneath. Our environment and shared culture nurture us, as we are never absolutely independent of one another. Through In(dependent), the artists ask who we are because of each other. What do we share with our neighbors? Moreover, if we look closely, can we see the fiber that connects us all?
The Untrained Edit is a collective of women artists, creatives, and entrepreneurs. TUE strives to build community, support local artists, and create art experiences in the Wiregrass. The TUE collective works to raise awareness around the artistic talent in our community while encouraging one another's practice and bolstering more collaboration and opportunities for one another.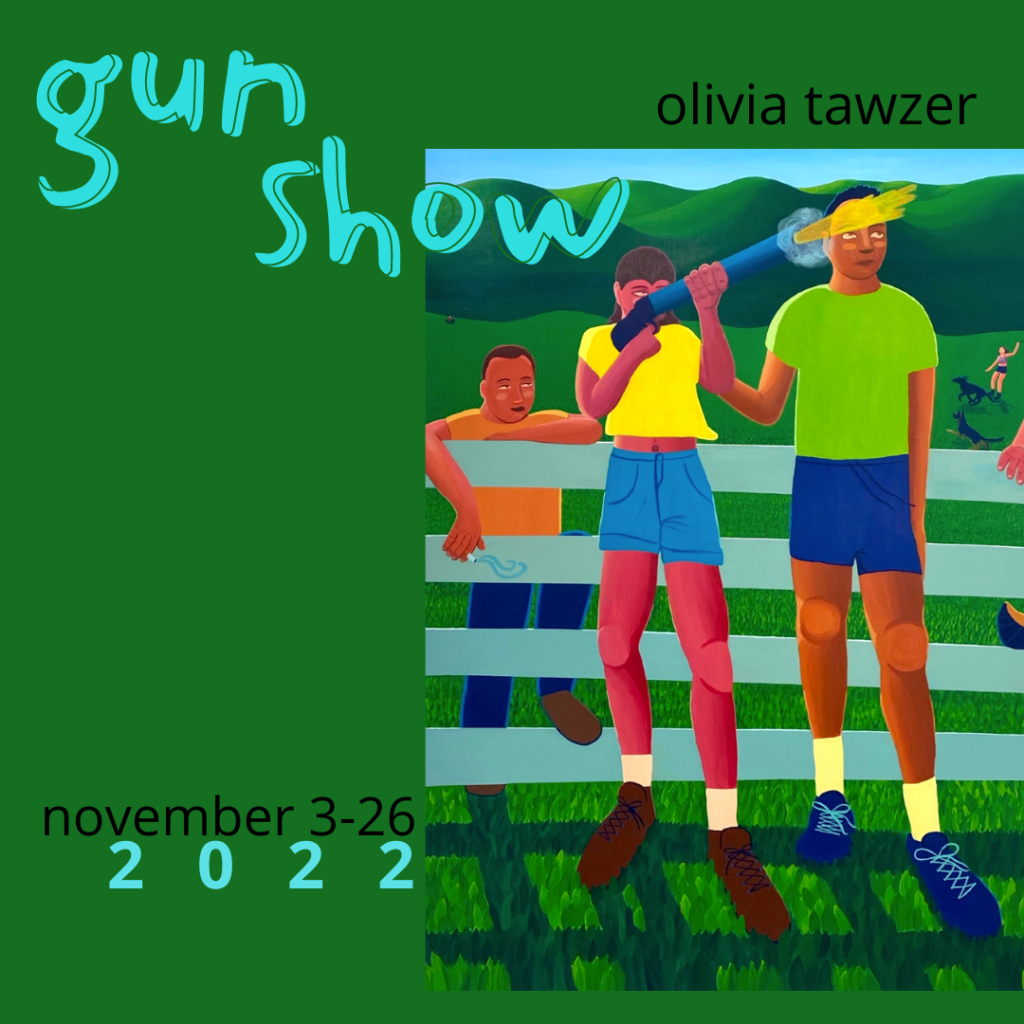 November 3 – 26, 2022
Gun Show by painter Olivia Tawzer will be on view from November 3-26, 2022. The exhibition is a commentary on displays of masculinity in the American South. The phrase "gun show" alludes to muscles, brute strength, and conventions where firearms are sold. Through a grouping of narrative paintings, Olivia Tawzer, a Chattanooga native, depicts questionable situations with displays of ego, dominance, and peril.
To many southerners, guns are a symbol of American pride and freedom. Olivia connects the concept of gun culture to the construct of masculinity. Often strength and stoicism are valued at the expense of emotional well-being, creating a toxic environment for self and others. Creating shadows and light in her paintings is important, as she plays with phrases like "hiding in the shadows" or "finding the light" in the context of men disconnecting from their emotions or finding productive ways to channel them.
While Gun Show assembles a dense narrative encompassing a challenging and complicated topic, Olivia has illustrated bold and moving displays of real-life situations she experienced. Her use of color, scale and technique disarms the viewer.
"Polarizing and complex topics, such as gender and politics, are often talked about in black and white terms with no consideration of the grey areas. When met with opposition to our beliefs, it can be easy to disregard differing opinions without trying to find any middle ground – the only place where productive conversation and human connection can occur. With this show, I aim to depict scenes that elicit an immediate judgment of those portrayed but allow for further contemplation upon deeper inspection." – Olivia Tawzer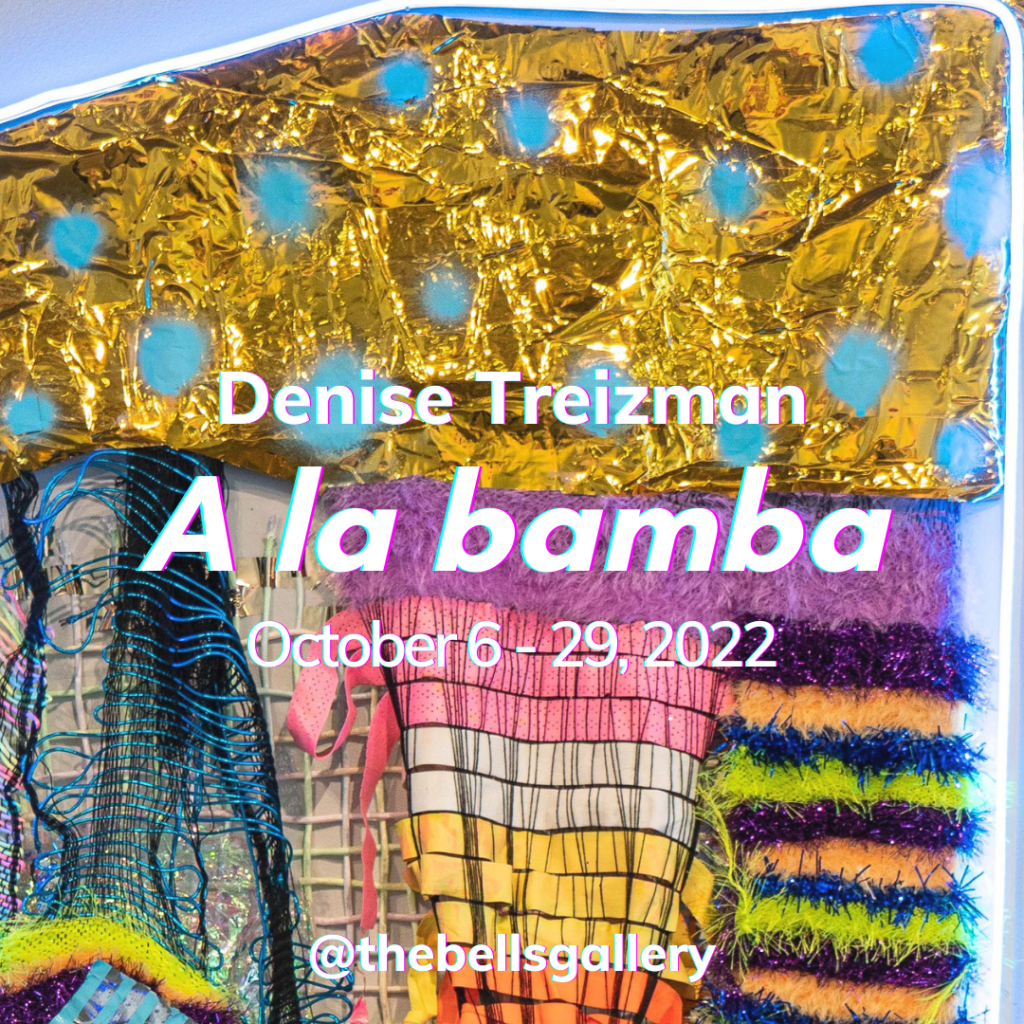 October 6 – 29, 2022
A la bamba (October 6-29, 2022) is a collection of works by artist Denise Treizman at Bells Gallery. Denise is a Chilean-Israeli multidisciplinary artist based in Miami, Florida. This exhibition is a playful and vibrant composite of works pulled from Denise's past shows to reflect her short time in Alabama as she is temporarily living in Dothan.
Denise incorporates found objects and ready-made materials with brightly colored, textural, and sometimes luminescent weavings to form her unconventional art. She accumulates materials with no specific purpose or plan in mind except to have the goods available to subtly shape her boundary-breaking sculptures and installations. Denise works by her motto that nothing is permanent and everything transforms.
Bells Gallery will feature a site-specific fiber installation, weavings, works on paper, and sculptures in the exhibition A la bamba.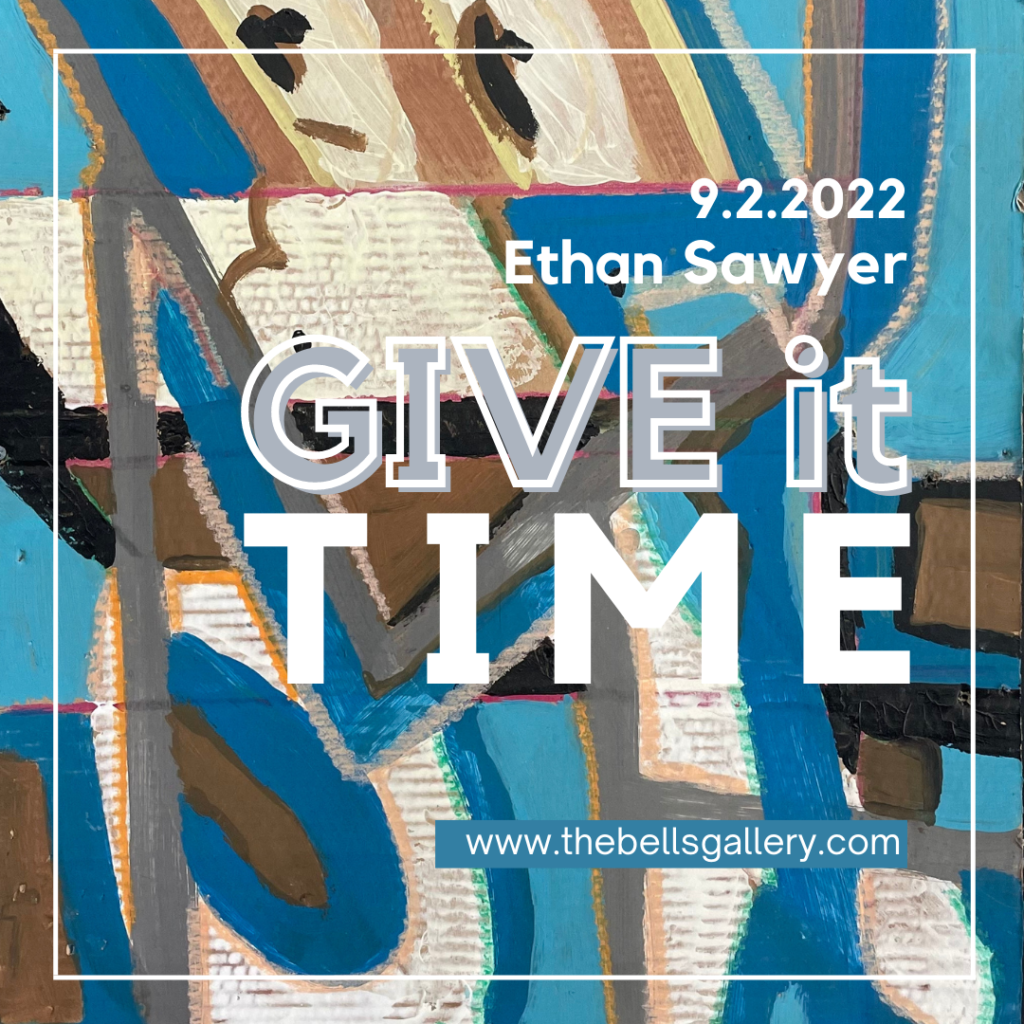 September 1 – October 1, 2022
Ethan Sawyer is a multidisciplinary artist from Enterprise, Alabama. He presents this body of work combining his skills in painting, photography, and woodworking.
Give it Time is an interpretation of the silent, humorous, and persistent momentum of time. Often through the lens of our present, the past validates our decisions. Ethan explores the ironic and intuitive nature of hindsight in this exhibition.