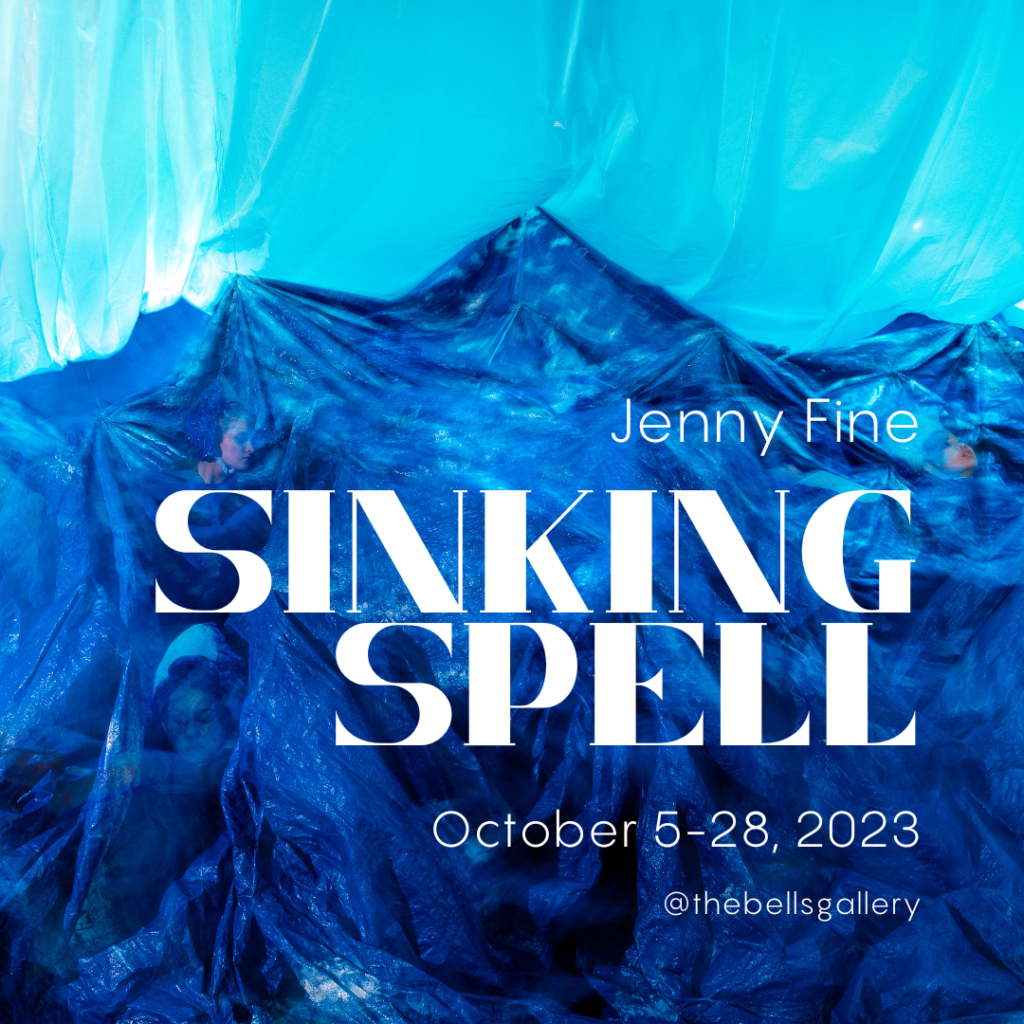 Sinking Spell: Jenny Fine
October 5-28, 2023
Opening Reception on Friday, October 6th; 5p-8p
Artist Talk in the gallery TBA
All artworks are for sale in person or online. See the online gallery to purchase through the Bells Gallery website.
Jenny Fine's Sinking Spell is a series of photographic sculptures and collages from documentation of the ongoing immersive installation/performance Sync/Swim (formerly Synchronized Swimmers.) The central question these works and souvenirs ask the viewer is, "Do you want to take me home?"
In 2020, Fine brought Synchronized Swimmers to life. The immersive installation is based on research and imagery from the Florida Gulf Coast and the artist's relationship to water – specifically, the childhood memories of her time spent in her grandmother's in-ground pool. That pool filled her childhood with play, often transporting her and her sisters to places only their imaginations could take them. Later, the show evolved to Sync/Swim, with the imagery still leaning heavily on family narratives, geographical research, and regional cultural history.
Sinking Spell is an opportunity to confront the immersive nature of this former body of work. By removing herself from its performance and conceptual rigidness, the artist uses this exhibition as an exercise to think formally about the compositions, pushing the photographic form forward.
Sinking Spell is on view October 5-28, 2023, at the Bells Gallery. It includes photography, photographic sculpture collage, and mixed media sculptures once used as props and performance pieces.
ARTIST STATEMENT
Through the lens of my camera, the landscape of the family farm and the interiors of our homes become a stage on which our costumed bodies perform identity. The camera functions as a tool that crops, flattens space, freezes time, and silences sound. Photography cuts out all that makes the world around us alive – then, in turn, is the photograph a kind of death? And if the photograph is a death, what does it mean to regenerate an image or wear it as a costume? My work is grounded in early (Victorian) sentiment around the photograph – when it was better to have an image of your dead child than no image at all. This is the starting point for the 'stand-in,' the photograph as both presence and absence. My current work approaches photography from this history to explore our relationship to history.
My practice begins with the narrative. The stories I hear flicker on the theater screen of my mind. My first act of making is a performance for the camera, a reenactment, a way of fixing the mental images conjured by stories, rendering them visible and suspended on the film's surface. My work attempts to "reverse the camera's crop" by returning space, time, and animation to the latent memory image. Through a cross-disciplinary approach, I create images and environments inspired by my rural southern landscape and my family's stories. The resulting works are a surreal collision of the past and present, straddling the line between fantasy and reality. In time, the photograph becomes a mirror held up for ourselves, for me – as an investigation of place, the persistence of time, and the identity of my American South. By incorporating forms of installation, performance, storytelling, and regional cultural studies, my work attempts to overlap the past and the present – placing the viewer inside the photograph, inside the story, not knowing fully what has come before or what might happen next.
I am motivated by an unfolding narrative only revealed to my conscious self in parts. As I look back on my work, I discover characters emerging and chapters unfolding before me. The ineffable nature of this lived narrative is neither didactic nor linear. Instead, it is so many threads and my weaving hands, tying them together: the photograph as time froze – the camera, a device capable of shapeshifting memory – and the story – as an apparition moving across time and space, resisting stillness and singularity. My work is to embody stories, to move them forward in resistance to the death a photograph may offer.
ABOUT
Jenny Fine (b. 1981, Enterprise, AL) is a visual artist living and working in Alabama. Based on the photographic form, Fine's practice employs time as the primary material in her exploration of personal and cultural memory, identity, and our ever-shifting relationship to the photograph.
Fine received a BFA from the University of Alabama in 2006 and an MFA from The Ohio State University in 2010. Fine was awarded a National Windgate Fellowship from the Center for Craft, Creativity, and Design (2006); a Fergus Memorial Scholarship from The Ohio State University (2009); Greater Columbus Arts Council, Columbus, Ohio – artist exchange, Dresden, Germany (2012); an Individual Artist Fellowship from Alabama State Council on the Arts, Montgomery, Ala. (2017); and Southern Prize Alabama State Fellow from SouthArts, Atlanta, Ga. (2022).
Fine has shown her work in solo exhibitions at Geh8, Dresden, Germany (2012); Dublin Arts Council, Dublin, Ohio (2014); The Sculpture Center, Cleveland, Ohio (2015); Children's Museum of the Arts, New York, New York (2015); Wiregrass Museum of Art, Dothan, Alabama (2015/2018/2020); Jones Carter Gallery, Artfields, Lake City, S.C. (2019); and Southeastern Center for Contemporary Art, Winston-Salem, North Carolina (2021); Alabama School of Fine Art, Birmingham, Ala. (2022). She has exhibited her work in group shows throughout the United States, including the Columbus Museum of Art, Columbus, Ohio (2012); the Contemporary Art Center, Cincinnati, Ohio (2015); Birmingham Museum of Art, Birmingham, AL (2015); and Mobile Museum of Art, Mobile, AL (2017/2018); the Bo Barlett Center, Columbus State University, Columbus, Ga. (2022); Gately Gallery, Francis Marion University, Florence, S.C. (2022); and 701 Center for Contemporary Art, Columbia, S.C. (2023).