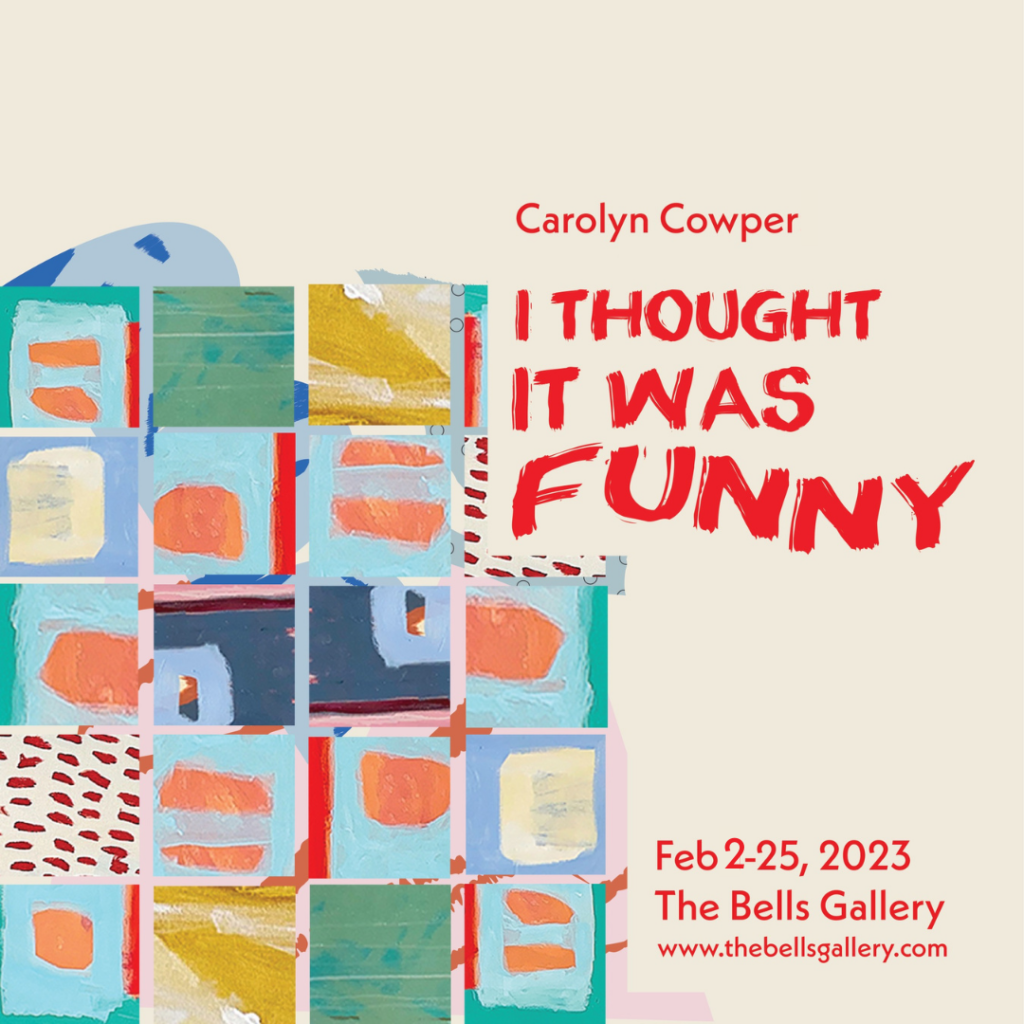 I Thought It Was Funny by Carolyn Cowper
February 2 – 25, 2023
Opening reception on Friday, February 3rd; 5p-8p
Artist talk on Thursday, February 9th; 6p
All artworks are for sale in person and online.
See the online gallery to purchase on the Bells Gallery website
I Thought It Was Funny by Carolyn Cowper is on view at Bells Gallery from February 2 – 25, 2023. Using a tumultuous color palette, bold marks, and exaggerated layers, Cowpers conveys a story about emotion. She mobilizes the body of work of primarily mixed media works on canvas as a spectacle to parade her process of creating – literally and metaphorically.
Cowper observes that humans relate to each other while imbuing their thoughts, beliefs, and culture with their emotional perspectives. She believes that as we progress through life, our emotions alter in the process rather than fade. Perhaps over time, we learn to harness our raw emotions steering them to operate in terms of rationality.
I Thought It Was Funny illustrates the confrontation between rationale and emotion by exploring the balance between being a child and an adult. During the transition from childhood to adulthood, we may often realize things are not as they seem, leaving us with an eerie sense of disillusionment. Cowper explores identity, locality, and gender, using her paintbrush to tackle these distinct narratives in a way that viewers may find exhilarating, humorous, nostalgic, and exhausting.
ABOUT
Carolyn Cowper is an Alabama native and multidisciplinary artist dedicated to creating emotive work with purpose and intention. Cowper earned a BFA in ART from The University of Alabama in May 2021. She is currently based in Dothan, Alabama, and is a resident artist at The Untrained Edit. Carolyn's work was exhibited in the December 2022 group exhibition In(dependent) at the Bells Gallery.
ARTIST STATEMENT
"I approach each piece with varying surface preparation, scale, and materiality. This steers me towards less-conventional experimentation with methodology, working primarily in mixed media to create a clear presence of the artist. This is evident through a chaotic juxtaposition of mediums, fragmented parts, and the visual movement created by contrasting form, color, and texture. My creative means manifest in the idea of the process, accepting that the piece itself is not difficult but that the sense of difficulty lies within its particular experience. I habitually refer to this as making "difficult" art in that its experience with me in the flesh has been personified as difficult, both in time and throughout the creative process."