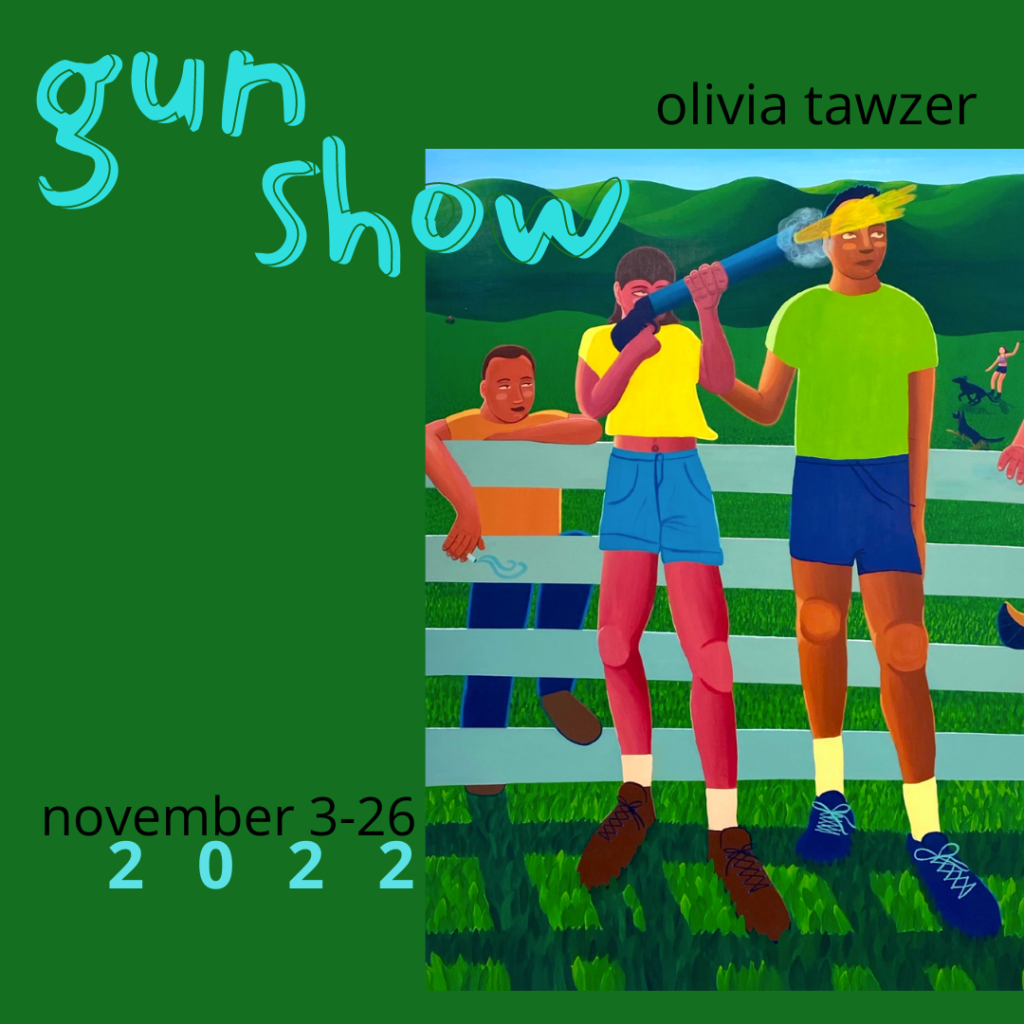 Gun Show by Olivia Tawzer
November 3 – November 26, 2022
Opening night on Friday, November 4th; 5pm-8pm
Artist Live Chat (Instagram); TBA
All artworks are for sale
See online gallery to purchase on the Bells Gallery website.
Gun Show by painter Olivia Tawzer will be on view at Bells Gallery from November 3-26, 2022. The exhibition is a commentary on displays of masculinity in the American South. The phrase "gun show" alludes to muscles and brute strength and conventions where firearms are sold. Through a grouping of narrative paintings, Olivia Tawzer, a Chattanooga native, depicts questionable situations with displays of ego, dominance, and peril.
To many southerners, guns are a symbol of American pride and freedom. Olivia connects the concept of gun culture to the construct of masculinity. Often strength and stoicism are valued at the expense of emotional well-being, creating a toxic environment for self and others. Creating shadows and light in her paintings is important, as she plays with phrases like "hiding in the shadows" or "finding the light" in the context of men disconnecting from their emotions or finding productive ways to channel them.
While Gun Show assembles a dense narrative encompassing a challenging and complicated topic, Olivia has illustrated colorful, almost comical displays of real-life situations she experienced. Her use of color, scale and painting style disarms the viewer.
"Polarizing and complex topics, such as gender and politics, are often talked about in black and white terms with no consideration of the grey areas. When met with opposition to our beliefs, it can be easy to disregard differing opinions without trying to find any middle ground – the only place where productive conversation and human connection can occur. With this show, I aim to depict scenes that elicit an immediate judgment of those portrayed but allow for further contemplation upon deeper inspection." – Olivia Tawzer
BIO
Olivia Tawzer is an artist living in Chattanooga, TN. Her work addresses the topics of southernness, family, gender roles, memory, and grief, with painting and sculpture being her main mediums. She often draws from her family members' stories or personal experiences to create her narratives.
Olivia graduated from the University of Tennessee at Chattanooga in the spring of 2021 with a BFA in Painting and Drawing. She is a contributor for Mineral House Media, a digital residency that offers artists in and beyond the southeast a platform to share work, conducts and publishes interviews, and invites residents to participate in an annual group show. She works as a licensed tattoo artist in downtown Chattanooga where she runs Grief Garden Tattoo Project, in which participants receive a memorial tattoo with specific imagery while talking about who it is for.