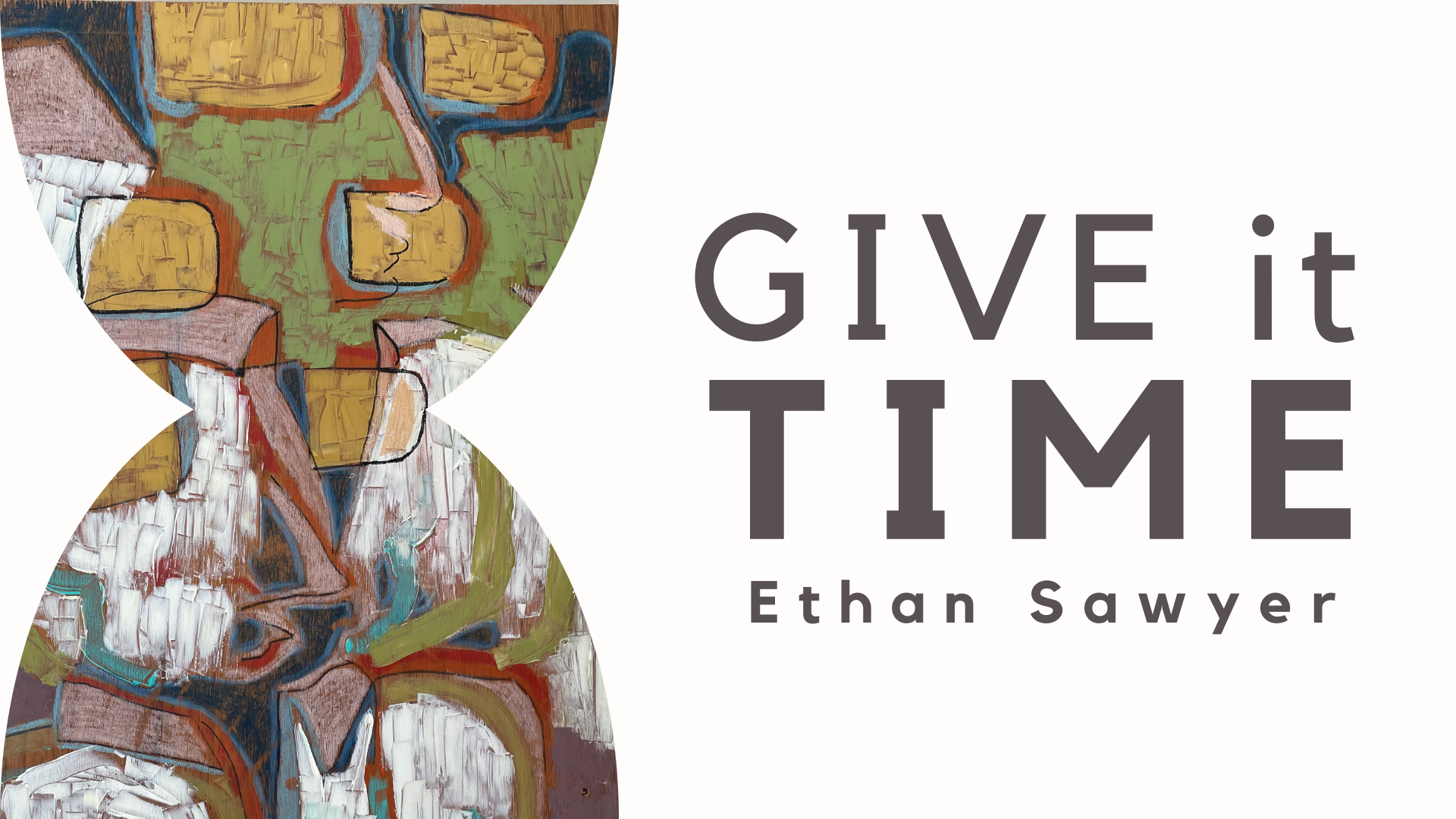 Give it Time by Ethan Sawyer
September 2 – October 1, 2022
Opening night on Friday, September 2nd; 5pm-8pm
Special event on Friday, September 29th; 4pm-8pm
All artworks are for sale
See online gallery to purchase on the Bells Gallery website.
Give it Time is an interpretation of time's silent, humorous, and continuing momentum. Often through the lens of our present, the past validates our most critical decisions. Ethan explores the irony and intuitive nature of hindsight in this exhibition. He presents this body of work, combining painting, photography, metal sculpture, and woodworking.
Ethan incorporates photographs he took in various cities and places over the past two decades. He links written words that stuck him funny with images of rusted soup cans of a color only time can paint. He paints a story with each work traversing the satirical nature of the past creeping into the present. Ethan is a seeker, and sometimes all we can do is give it time.
Ethan Sawyer is a multidisciplinary artist working and living in Enterprise, Alabama. He grew up in Montgomery, Alabama, nurtured by a family of makers and creatives, and finds that his childhood shaped his artistic process. His great-great-grandmother and her sister were prolific quilters. The visual imprint of her sewing left an impression on him, later informing and inspiring his allure to quilt patterns and the crafting process of slowly developing and completing the art. This early influence can be traced to many of Ethan's wood and metal quilt structures.
Ethan was first exposed to the contemporary art scene while living in Atlanta in the early 2000s. These encounters expanded his concept of art as he realized that art was more than the typical media, like realistic landscapes or figurative sculpture, setting him on his own artistic path. He began his artistic career as a woodworker, crafting off-beat yet beautiful mod furniture pieces. Later in 2007, Ethan moved to the family farm in Enterprise, Alabama, to pursue his craft and soon began producing art and woodwork in tandem.
He thrives on toiling over multiple projects at once because he gathers inspiration from the processes of each. Often the ongoing projects intertwine and inform one another. His work is relative, and the connections from piece to piece from year to year are evident. Viewers will find Ethan sources his materials by salvaging and repurposing them into works of art. From paintings and furniture to wood sculpture and metal quilts, Ethan's art is born from everyday life, his memories, and past experiences.
B I O
Ethan Sawyer earned an Environmental Studies BA from Maryville College (Maryville, TN) in 2002 and a Certification of Cabinetry from Wallace College (Dothan, AL) in 2010. He has work in many private and public collections across the Southeast. He has exhibited at museums, galleries, and festivals like the Wiregrass Museum of Art (Dothan, AL), Cafe d'Art (Montgomery, AL), Inman Park Festival (Atlanta, GA), Montgomery Museum of Fine Art (Montgomery), Southern Makers (Montgomery, AL), Alabama State Council on the Arts – Georgine Clarke Gallery (Montgomery, AL), Kentuck Art Center (Northport, AL), Chipola College Callery (Chipola, FL), Piney Woods Festival (Enterprise, AL), and others. Ethan is a recipient of the Vivian Scott Award from the Montgomery Museum of Fine Art.