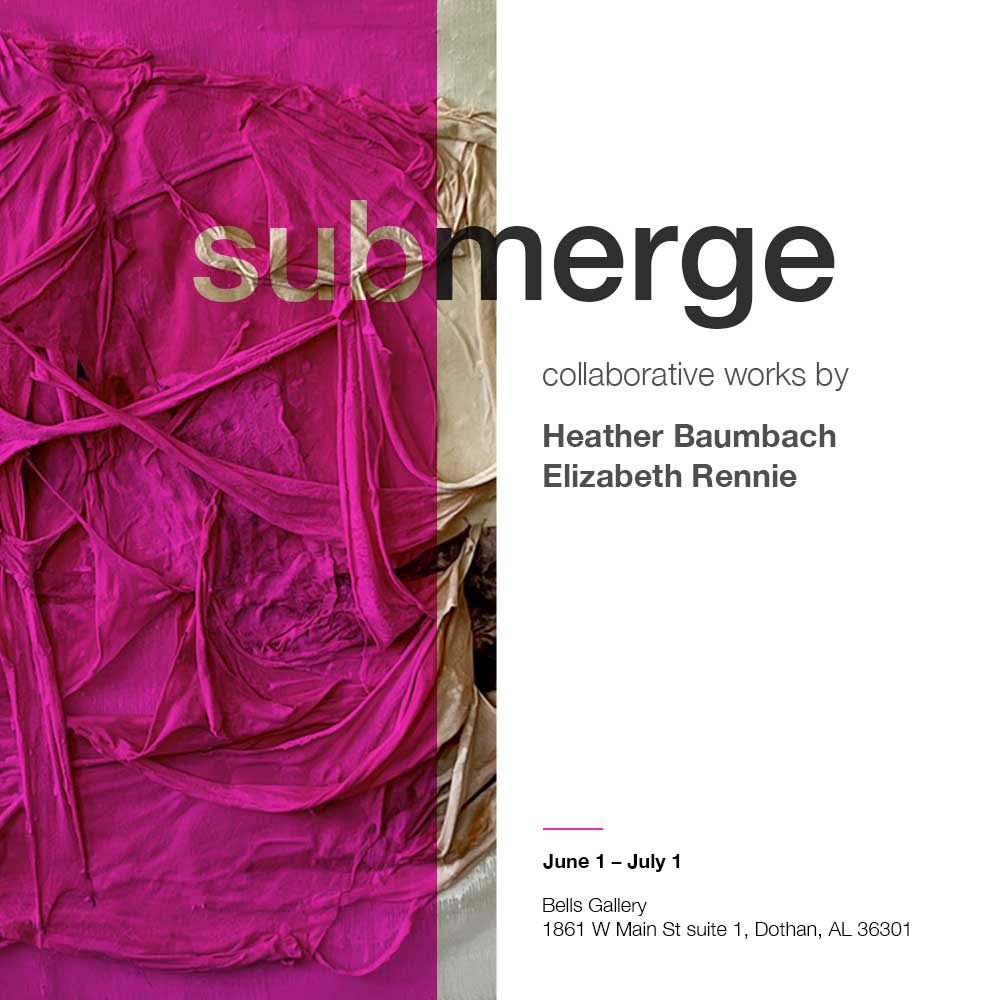 Submerge: Heather Baumbach and Elizabeth Rennie
June 1 – July 1, 2023
Opening reception on Friday, June 2nd; 5p-8p
IG Live Artist Talk on Tuesday, June 6th; 6p
All art is for sale in person or online. See the online gallery to purchase through the Bells Gallery website.
Submerge will be on view at Bells Gallery in June 2023. The exhibition is a collaboration by artists Heather Baumbach and Elizabeth Rennie. The two join their practices to construct works encircling their common interests and the human experience, surveying the every day, otherness and exposure.
Submerge examines perceptions and realities of external vulnerability while addressing the unseen commonalities of internal struggle. Through their combined use of shape, color, and texture, Elizabeth and Heather's work seek to uncover the relationships between life, bodies, and self-preservation.
Viewers will find mixed media works and a site-specific installation. The artists work with discarded materials and traditional fiber techniques common to our lived experiences concerning identity, mental health, and bodily autonomy.
Heather Baumbach
Artist Statement
"My fiber sculpture practice explores the complexity of my relationship with the physical body, skin, and the cloth that covers it while expressing cultural concepts of gender, domesticity, and craft. By cultivating a sensitivity to materials and an attentiveness to the narrative, I manipulate hand-dyed textiles, creating meaning through sculpted layers, openings, and folds. My work frequently highlights themes of acceptance and rejection, drawing attention to both the hidden and the exposed."
Elizabeth Rennie
Artist Statement
"My mixed media painting practice explores everyday human experiences and emotions, particularly concerning my identity and mental health. Regularly, whether due to matters associated with my biracial background, struggles with mental health, or my social and economic upbringing, I have experienced feelings of displacement and otherness that I strive to piece together in my works.
Through an assortment of discarded materials – paint, cardboard, fabric, household items – I discover different means to reconstruct and convey my understanding of my lived experiences. Distinctive textures, shapes, and marks all work together to create one interconnected reality. I interpret my materials and structures as snapshots of life, both literally and figuratively, creating moments to be entered and experienced."