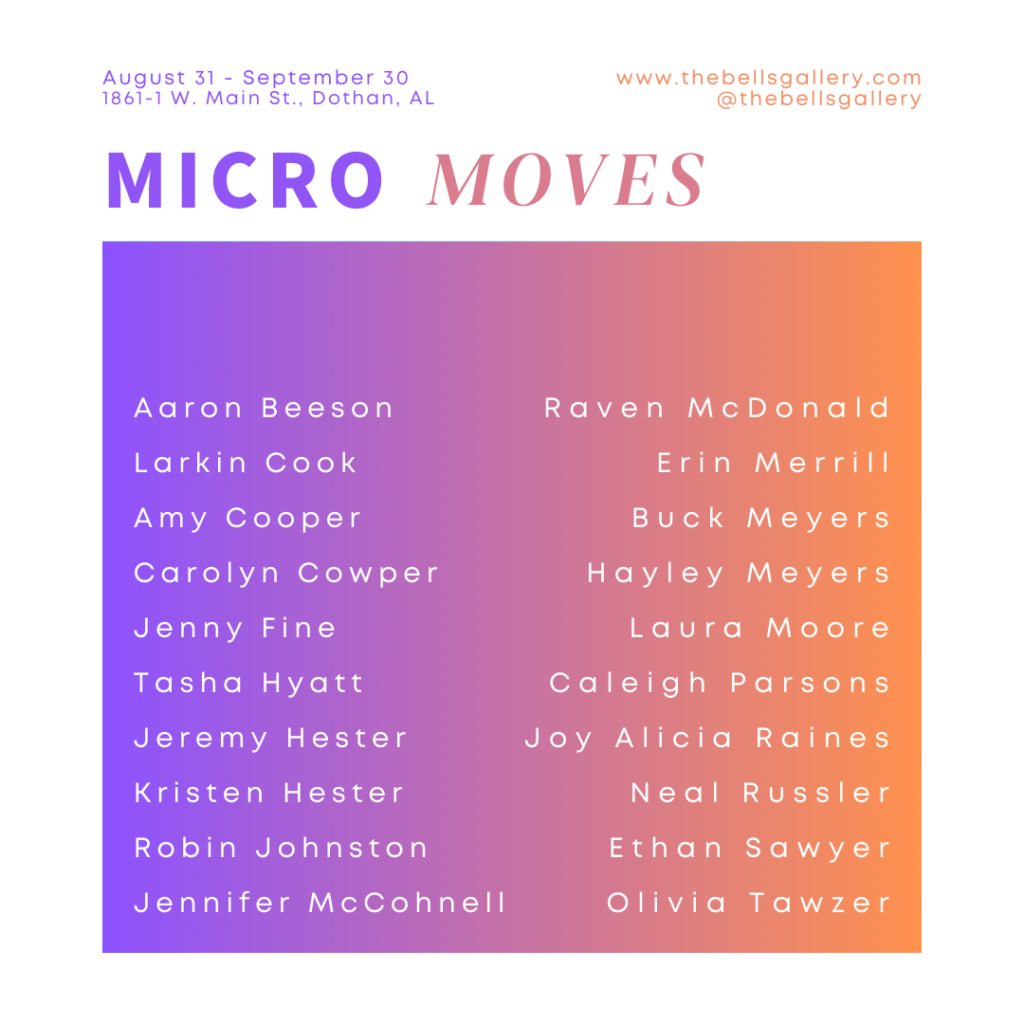 Micro Moves
August 31 – September 30, 2023
Opening Reception on Friday, September 1st; 5p-8p
Aura Photography by the AURA WEAVER on Saturday, September 2nd; TBA
All artworks are for sale.
September 2023 marks Bells Gallery's first year of existence. The Micro Moves Exhibition celebrates ONE year of monthly art exhibitions and community cultivation at Bells. The show will feature small works priced under $100 by first-year exhibiting artists and special people who have been on the journey with owner and curator Holly Roberts Meyers since day one. Bells Gallery is making micro-moves in the right direction.
What is a micro move? Micro-moves are small and often barely noticeable patterns of action and interaction that engage people meaningfully and respectfully for change. They are consequential in generating collective enthusiasm and energy that build palpable hope and momentum.
The Micro Moves exhibiting artists are Aaron Beeson (AL), Larkin Cook (TN), Amy Cooper (AL), Carolyn Cowper (AL), Jenny Fine (AL), Tasha Hyatt (AL), Jeremy Hester (FL), Kristen Hester (FL), Robin Johnston (AL), Jennifer McCohnell (AL), Raven McDonald (AL), Erin Merrill (AL), Buck Meyers (AL), Hayley Meyers (AL), Laura Moore (AL), Caleigh Parsons (AL), Joy Alicia Raines (GA), Neal Russler (TN), Ethan Sawyer (AL), Olivia Tawzer (TN).