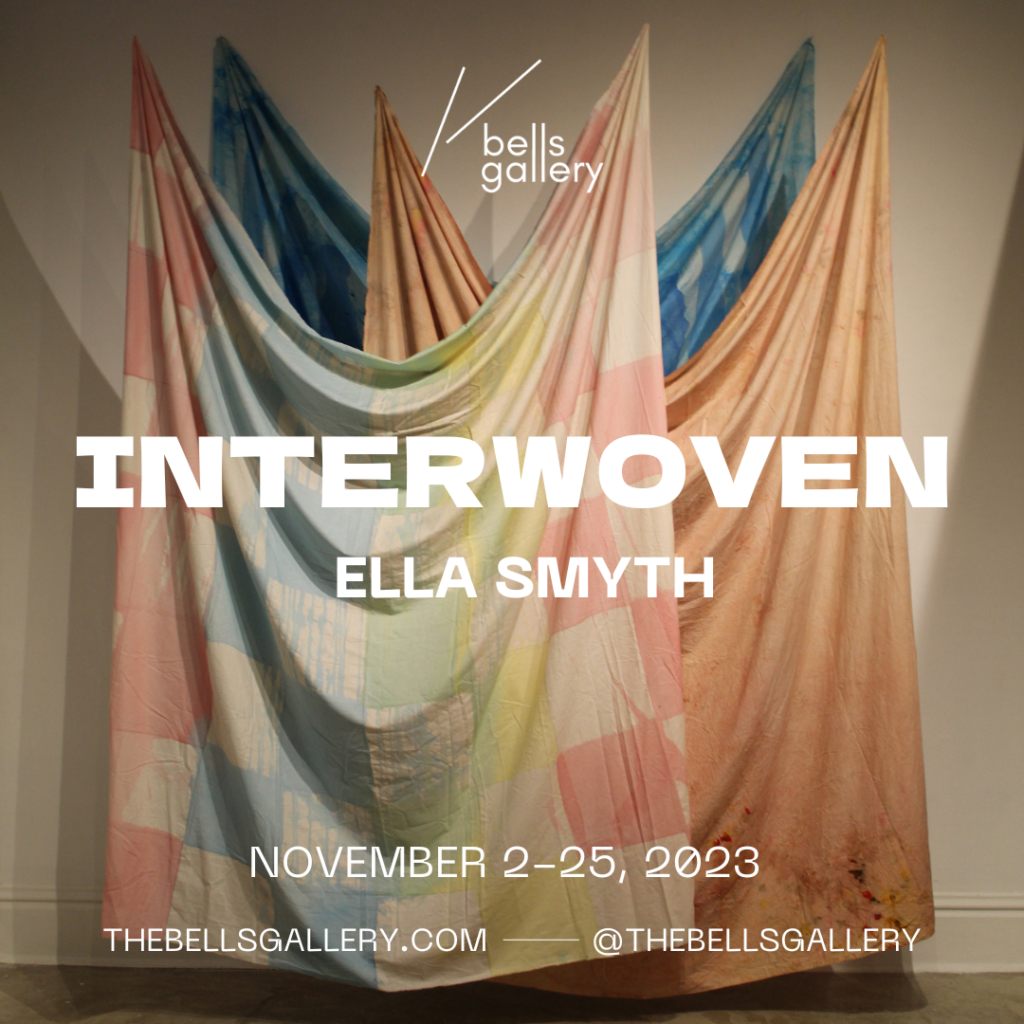 Interwoven: Ella Smyth
November 2-25, 2023
Opening Reception on Friday, November 3rd; 5p-8p
Artist talk on Tuesday, November 14th; 6:30p
All artworks are for sale in person or online. See the online gallery to purchase through the Bells Gallery website.
Ella Smyth's Interwoven will be on view at Bells Gallery from November 2 to 25, 2023. Interwoven is her thesis, and an extension or evolution of the body of work will be on view. The artist graduated from the University of Alabama in May 2023, and is a resident of Prattville, Alabama.
Interwoven is an exploration of the interplay between dualities in contemporary painting, specifically the organic and the geometric. The artist uses materials to create a visual dialogue that bridges the gap between the natural and machine-made.
The body of work invites the viewer to engage in a conversation about the dualities that exist within us and the world and to consider the possibilities that arise when seemingly opposing forces come together in unexpected ways. Through the interplay of forms, materials, and techniques, the artist seeks to create a visual narrative that reflects the complexities and paradoxes of our world.
Artist Statement
"My process often involves soaking and staining on unstretched surfaces, such as canvas and muslin, which allows for the pigment to become a part of the object. This creates a unique relationship between the medium and the object, highlighting the work's presence in physical space. The resulting sagging and wrinkling of the surface become an integral part of the work, reflecting the complexity of time and the cyclical nature of life. Through the repetition of the grid as a grounding element, I seek to create a sense of order and balance that contrasts with the free-form surfaces. By avoiding specific subject matter, my work becomes a meditative experience that invites reflection and contemplation, inviting the viewer to explore their own thoughts and emotions in relation to the artwork."
About
Ella Smyth (2001) is a multi-media artist and painter from Prattville, AL.
Her work has been exhibited at the Sella-Granata Art Gallery for her BFA Thesis Show and The University of Alabama Scholarship Show, Gorgas Library Student Artwork Exhibition, at Dinah Washington Cultural Arts Center for The West Alabama Juried Art Show, and the Bellwhethers 2021 Show. During her time at the University of Alabama, she was awarded many art-based scholarships from the department and worked as the Lead Student Worker for the Sella-Granata Art Gallery.