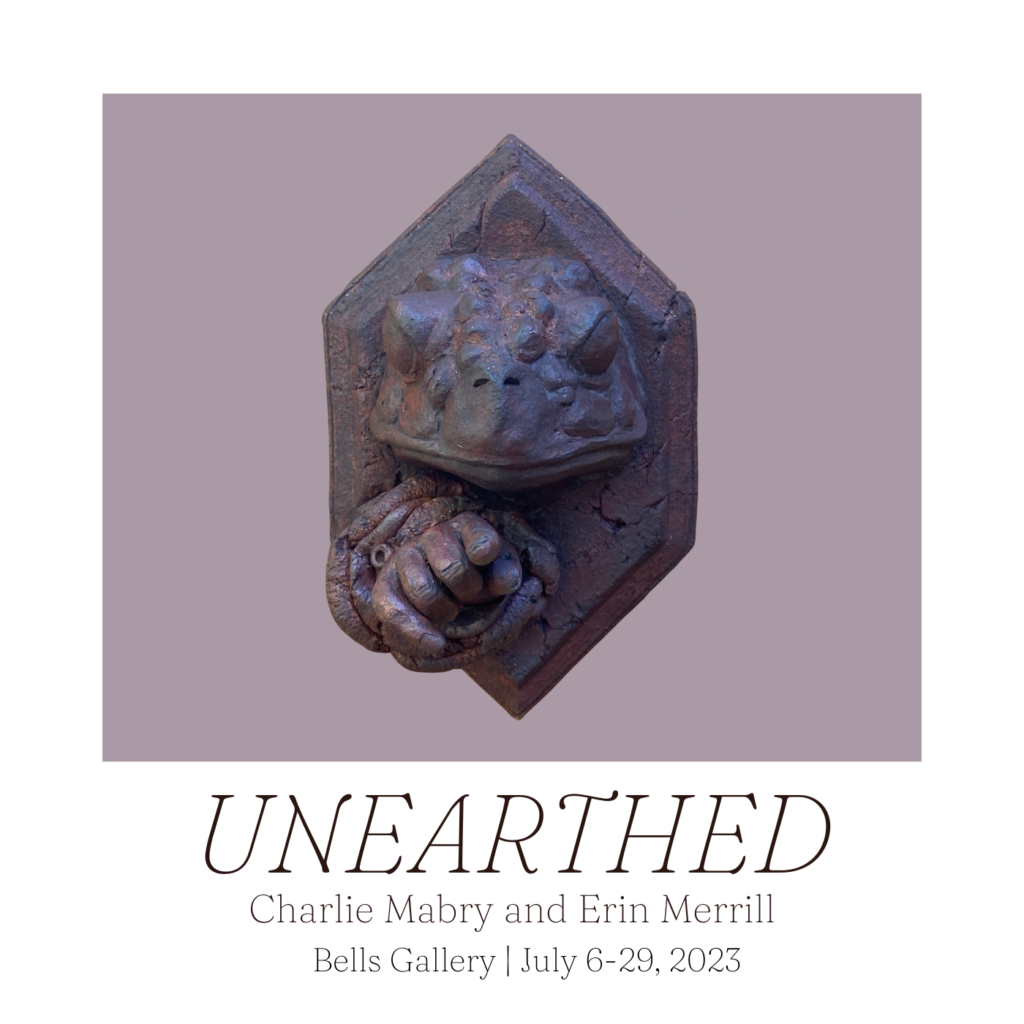 Unearthed: Charlie Mabry and Erin Merrill
July 6-29, 2023
Opening Reception on Friday 7th; 5p-8p
Other Programs TBA
All artworks are for sale in person or online. See the online gallery to purchase through the Bells Gallery website.
Unearthed is a collaborative exhibition by sibling artists Charlie Mabry and Erin Merrill on view at the Bells Gallery from July 6-29. Sculptor Charlie Mabry and painter Erin Merrill will employ their contrasting media to connect viewers with this body of work.
Charlie Mabry
My sculptural work explores themes that blur the line between nature and culture, how the fantastic reflects the way we feel about reality, and the ever-present link between future and past. I utilize the imagery of natural and historical forms combined with elements of literature, science fiction, and fantasy to convey a possible reality. My principal medium is clay because of both its workability and many associations, that strengthen the ideas in my work – such as its connections to utility, domesticity, and artifacts of our most distant past.
Charlie Mabry is a sculptor and ceramic artist. He graduated from Auburn University in 2011 with a BFA in ceramics. From 2012 to 2014 he was an Artist in Residence at the Callanwolde Fine Arts Center in Atlanta, Georgia. From 2014 to 2016 he taught and worked as the Assistant Director of The Potters of Rockybrook Studio in Opelika, Alabama. From 2017 to 2022 he was the Director of Ceramics at the Ohr- O'Keefe Museum of Art in Biloxi, Mississippi.
Erin Merrill
Erin Merrill is an artist and educator. While she enjoys creating in all forms, her primary medium is oil on canvas. She is influenced by the techniques of the impressionists and their bold and rebellious movement against the prevailing perfectionism of the neoclassicists.
Merrill earned a BA in Communication and minor in Art Historyfrom Auburn University. Later, she earned a MA in Elementary Education at Troy University in Dothan. She is certified in Alabama to teach the visual arts to PreK to 12th graders. Merrill is a member of the Alabama Arts Education Association, serving as a committee member. Also, Erin is the Arts Liason for the Alabama Arts Alliance – representing Rehobeth.