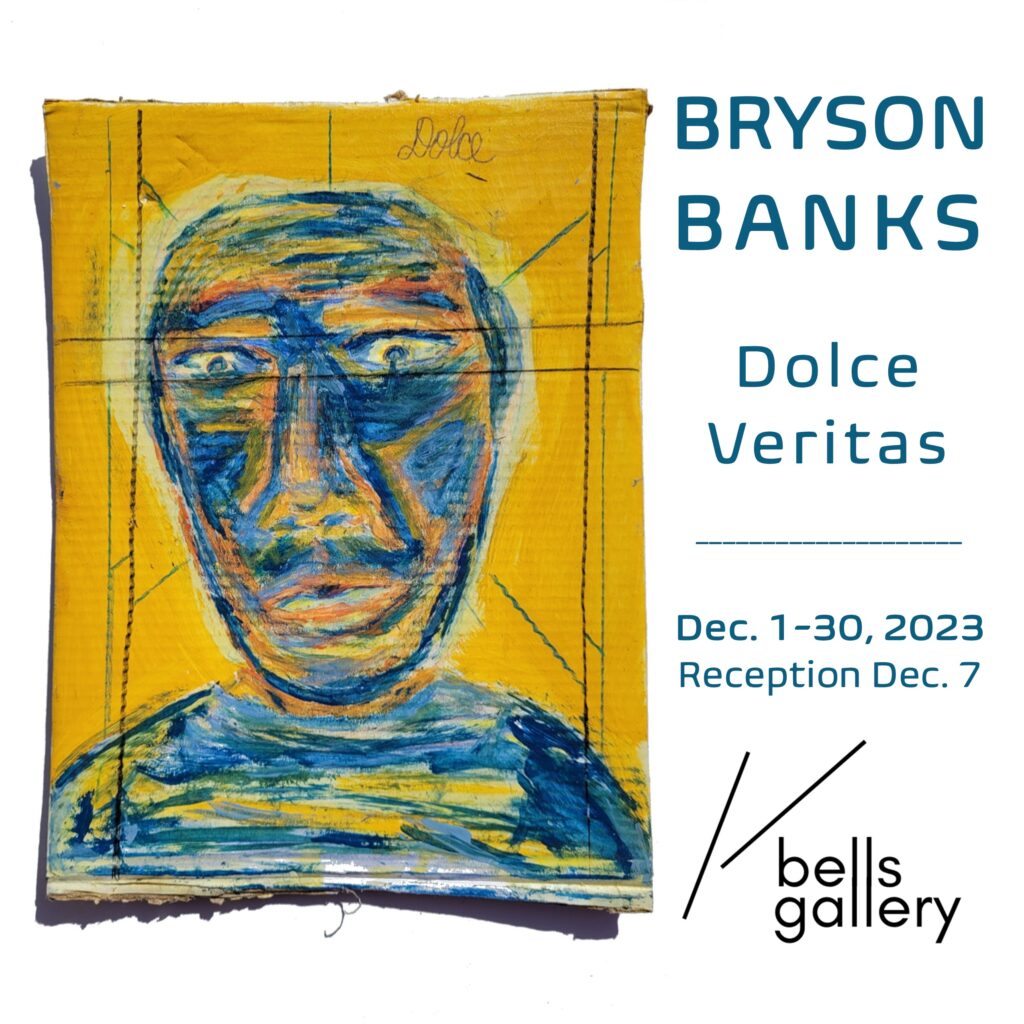 Bryson Banks – Dolce Veritas
& Michael Banks – Outsider Royalty
December 1-30, 2023
Artist Reception on Thursday, December 7th: 6p-8p
All artworks are available to collect in person or online. See the online gallery to purchase through the Bells Gallery Website.
The Bells Gallery presents Bryson Banks – Dolce Veritas, a recent body of work by emerging artist Bryson Banks, and Michael Banks – Outsider Royalty by renowned Outsider Artist Michael Banks in December 2023.
Bryson Truth Banks was born in Guntersville, Alabama, in 2002. He began making art at the age of 15 and moved to Anniston at the age of 17. At 18, he became determined to be a full-time artist like his father, Michael Banks. The artist works in various media and describes himself as "A Quantum Artist of the 21st Century Renaissance."
His subjects draw inspiration from his daily life and a deep love of science. Images from the James Webb Space Telescope influence his bold color choices, and many of his works reference articles about quantum physics he has read. His figures often begin as abstract concepts related to whatever he happens to be reading or thinking about at the time and evolve into depictions of mythological characters, archetypes, or family members. Bryson is excited to have his first solo exhibition in his home state of Alabama.
Michael Banks was born in Guntersville, Alabama, in 1972. He was raised by his mother with his brothers and sisters and enjoyed painting and drawing from an early age. He was an athletic child, played basketball, and ran for his school's track team before graduating high school. He married in 1995 and began painting murals and working toward making art his full-time career, finding inspiration in construction materials and found objects like the cardboard boxes he collected while working at Mitchell's Grocery in Albertville, Alabama.
Michael Banks gained widespread recognition for his distinctive portraits using roofing tar on wood panels, allowing him to carve into the surface of his paintings. Since those early years, Michael has gone on to exhibit his paintings and sculptures in galleries regionally and nationally, and his works can be found in museum collections in Alabama (including the Wiregrass Museum of Art), Georgia, and Louisiana.