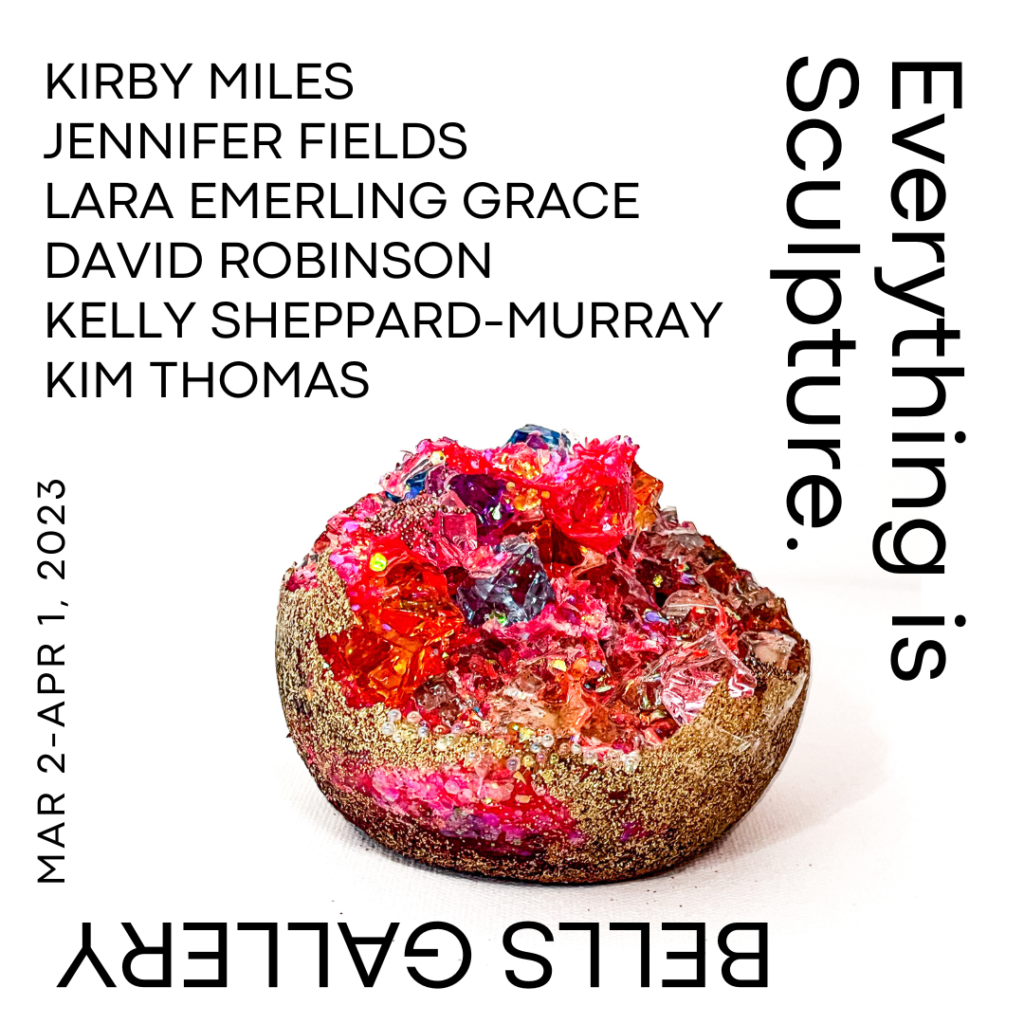 Everything is Sculpture
March 2 – April 1, 2023
Opening reception on Friday, March 3rd; 5p-8p
Artist Talk on IG Live w/Kirby Miles, Jennifer Fields, and Lara Emerling Grace, Tuesday, March 14th; 6p (CT)
All art is for sale in person or online.
See the online gallery to purchase on the Bells Gallery website.
Everything is Sculpture is a group exhibition inspired by the artist and landscape architect Isamu Noguchi's belief that "everything is sculpture." He once said, "Any material, any idea without hindrance born into space, I consider sculpture." The group show includes artists Kirby Miles (Chattanooga, TN), Jennifer Fields (Birmingham, AL), Lara Emerling Grace (Baltimore, MD), David Robinson (Atlanta, GA), Kelly Sheppard Murray (Raleigh, NC), and Kim Thomas (Charleston, SC) will be on view at the Bells Gallery during the month of March.
ARTISTS
Kirby Miles
BIO: Kirby Miles is a queer painter living and working in Chattanooga, TN. She received her BFA from the University of Tennessee at Chattanooga and her MFA from Cranbrook Academy of Art in 2019. She has also attended the Chautauqua School of Art. She is a curator and member of the artist collective, Wavelength Gallery in Chattanooga, TN.
ARTIST STATEMENT: I excavate artifacts from spaces that require proof of their existence. The world in which I procure these glinting fragments is exclusively feminine; a sharp but soft space that is a distorted reality of natural processes. It is a magical real. Bright and ghostly, this expanse opens up like a moth-born orchid, where you can always dip your toes, but rarely ever submerge.
Currently in the studio, I am working on small sculptural forms that are slightly disguised as paintings. They are handheld sizes with protrusions, dips and folds that are concerned with the idea of passing-much like the gendered notion of passing; often concerned with camouflaging themselves in what seems familiar to them. This concealment fails in that their recognizability is alien to their actual surroundings. Traditional materials of canvas and wood are present with the creeping in of aluminum, rock sediment, glitter, sprinkles, and fur, among others. Fragments of a greater place, these pieces are glimpses-not the full picture.
Jennifer Fields
BIO: Jennifer Wallace Fields is a visual artist and educator based in Springville, Alabama. She earned her BFA from the University of Montevallo, where she focused on sculpture, with a particular interest in metalwork and ceramic hand-building. She has been making, exhibiting, and teaching art for the past twenty years.
ARTIST STATEMENT: Jennifer Wallace Fields' artistic practice is a process of emotional archeology: digging through our internal remnants to uncover artifacts that can be pieced together to re-construct a narrative.
Working primarily in clay while also incorporating found objects from thrift shops and the natural world, Fields explores multifaceted concepts of memory; these can take the form of collective, shared-cultural memories or even the forgotten memories embedded into objects she collects for her works as they pass from owner to owner over generations. Through the physical and metaphorical shapes of women, her work also examines cultural issues regarding the construct of gender roles, vulnerability, sexuality, identity, social and cultural pressures, expectations, and personal duality in the roles we play in our lives: willingly, forcibly, or subconsciously. Fields is interested in the mysteries of our primal, spiritual, and emotional connections to nature and where those connections intersect with societal and cultural constructs. Specifically, Fields examines the natural cycles of birth, death, and decay, which are experienced by all, but simultaneously detached from our full experience by manufactured cultural and social boundaries.
Lara Emerling Grace
BIO: Lara Emerling Grace is a teaching artist and mother of two originally from Tennessee. Grace received a BFA in Interdisciplinary Sculpture and Master of Arts in Teaching from the Maryland Institute College of Art (MICA). She currently lives and works in Baltimore, Maryland, with her family.
ARTIST STATEMENT: Grace's recent body of work emerged during the pandemic while navigating the compatibility and tension of motherhood, work, studio, office, and kitchen tasks. Like a bead or an amulet, these hand-formed ceramics reference the body in the sphere of the domestic. Grace's table-top sculptures offer a meditative take on playful attention and its ability to both cultivate devotion and elevate the senses.
David Robinson
BIO: I grew up in a small town in the Mississippi Delta and was introduced to art at a very young age. I've worked in a variety of media, including drawing and painting, printmaking, stained glass, jewelry making, and finally settled into clay sculpture. In 1999, I started taking classes in ceramics at Callanwolde Fine Arts Center in Atlanta, Georgia. While there, I studied hand-building, wheel-throwing, and figure sculpting every semester for about eight years.
Although I am largely self-taught, I have also pursued informal education through a variety of sources. My education in ceramics has included a variety of workshops and seminars over the years. I have been fortunate to have studied under several notable ceramists, including Tip Toland, Margaret Bohls, and Suze Lindsay, at Arrowmont School of Arts and Crafts in Gatlinburg, Tennessee. I have also participated in workshops led by Tom Bartel at Penland School of Crafts in Penland, North Carolina and Jenny Mendes, Debra Fritts, Susan Beiner, and Lisa Claque at Mudfire in Atlanta, Georgia. I also had the experience of attending two important symposiums, including the 2014 "Figurative Association: The Human Form Symposium" at Arrowmont School of Arts and Crafts as well as the 2012 Alabama Clay Conference in Birmingham, Alabama. From 2006 to 2008, I studied figure sculpting at CherryLion Sculpture Studio in Atlanta, Georgia, under the direction of Martin Dawe. I also studied under Glenn Dair, Diane Kempler, Bill Nixon, and others at Callanwolde from 1999 to 2007.
I have been selected to attend some of the most prestigious residencies in the US and the world. These include The Archie Bray Foundation for Ceramic Arts, Anderson Ranch Arts Center, Gaya Ceramic Arts Center in Bali, and The Hambidge Center for Arts and Sciences, where I was awarded a stipend as a Fulton County Distinguished Fellow.
While working full-time, I studied drawing and painting at GSU and completed the equivalent of a minor. My formal education includes an undergraduate degree in English and French from Delta State University, and my graduate degree is in Instructional Technology (with honors) from Georgia State University.
Kelly Sheppard-Murray
BIO: Kelly Sheppard Murray lives and maintains her studio in Raleigh, North Carolina. She is an Associate Professor of Art at Wake Technical Community College where she teaches 2D and 3D design, sculpture, and painting while maintaining a vibrant and full practice that includes commissions and public exhibitions. Recent solo shows include Curiosities, Charlotte Russell Contemporary, Raleigh; Interactions, corporate office installation at Willowtree App with DAG's art@work program; Accumulated Color, VAE, Raleigh's The Lab; and Wilma Daniels Gallery, Wilmington. Some of the group shows: Colorful Accumulations, Artmospher, Clayton, NC; Art Ritual, Charlotte Russell Contemporary; Durham Art Guild's 65th Annual Juried Exhibition and the Knoxville's Dogwood Arts Regional Art Exhibition.
ARTIST STATEMENT: I fashion a wide range of polymorphic, multicolored structures that have their roots in natural forms, drawing from the shapes of plants, moss, lichen, fungi, shells, and geological forms but not typically replicating specific species or locations. I observe urban development in the nearby surroundings, where I see the devastating human impact on the natural habitats that we feel so disassociated from. My observations at a changing landscape have fueled my desire to observe and study the small and often ephemeral species in the natural world that demonstrates strength and resilience because it persists even in harsh and inhospitable locations. I want to engage the viewer to think about their relationship with the environment by making nature-inspired forms from industrial materials. I use readily available materials used for domestic construction, which I form and then layer encaustic wax paint to transform the otherwise ordinary materials into objects reminiscent of the natural world. I create my small sculptural elements day after day in a somewhat ritualistic practice that builds a number of elements due to the persistent daily making.
Collecting hundreds of small forms, I slowly and deliberately assemble my pieces for installation – each one a unique building block to develop my personal visual language that is then arranged in varied ways within an exhibition space. By developing this malleable visual idiom and relying on modules that can be reconfigured or rearranged depending on the circumstance, I rely on a fluid and changing language that allows me to create a new story with each installation. I can then invite the audience to join me as we try to decipher a narrative. The day-to-day practice is intended to remind viewers how small steps can significantly impact our perceptions of the world and our environment.
I follow my intuition and welcome the chaotic nature of an unplanned and spontaneous process. This manifests at the level of individual sculptures because the forms are usually made without sketches or detailed plans but also when creating a display where the installations are often a dialogue with the space or curator for the project. Color, shape, texture, positioning, and pattern are each considered as means to communicate ideas and create associations. In some instances, the sculptural components have been arranged in a rather dense but fluid and amorphous stretch along the wall space and in others a more sparce arrangement may be appropriate. Chromatic gradients and grids are often used to provide visual order to the sculptural elements and connect to my interest in scientific cataloging and studying the world. In other instances, the chronological order in which the components were created provided the structure for display. By arranging and rearranging my sculptures, I accept and engage with the idea that there is always more than one possible configuration, more than one story to tell. I am at once structuring this world and also questioning our methods and inclinations to structure and categorize things with narrow and incomplete language and systems. Rather than heed a limiting impulse for a single arrangement or answer, I strive to remain open to change and approach the experience of installing and making with play and a sense of curiosity about the world and the world I am making.
Kim Thomas
BIO: Kim Thomas is an internationally exhibiting artist working with the relationship between the natural environment and discarded materials, especially plastics. Her works have been exhibited in various venues, including at the University of Georgia, Athens, GA; Southern Illinois University, Carbondale, IL; Latitude 53 in Alberta, Canada and Museo del Brigantaggio in Itri, Italy. In 2011, she was selected for her first solo exhibition at the Brooks Museum in Memphis, TN.
Thomas holds her MFA in Studio Art from Memphis College of Art. She currently lives in her native Charleston, SC. She is the proud single mom to a toddler. Thomas is a full-time Art teacher at Cane Bay High in nearby Summerville, SC.